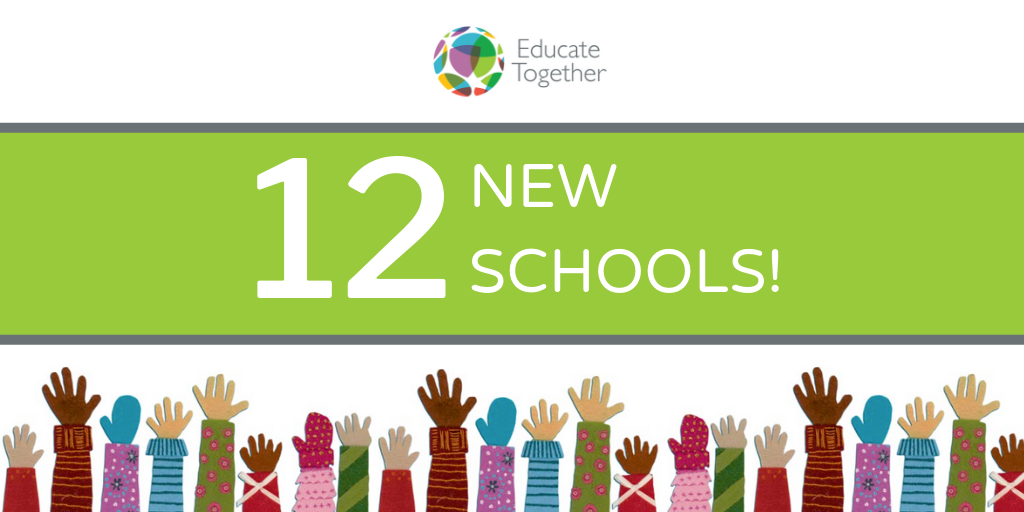 2019 is proving to be a record year of growth for Educate Together as seven new national schools, four new second-level schools and one new 'divestment' national school open their doors for the first time: 
Primary Schools
Second-level Schools
South Lee ETNS, Cork City
Drogheda ETSS – Co. Louth
Goatstown Stillorgan ETNS, South Dublin
Dublin North East ETSS – Co. Dublin
Dublin 13 ETNS – Dublin City

 

Galway ETSS – Co. Galway
Harold's Cross ETNS – Dublin 6

 

Wicklow ETSS – Co. Wicklow
Killester Raheny Clontarf ETNS – Dublin City
Leixlip ETNS – Co. Kildare

 

Newtownmountkennedy ETNS – Co. Wicklow
Westport ETNS – Co. Mayo (divestment school)
The schools will open this and next week. This is the highest number of primary and second-level schools that Educate Together has opened in one year. It will bring the total number of equality-based national schools to 92 and second-level schools to 17. Educate Together's 109 schools are now providing an equality-based educational experience to over 30,000 pupils. 
Educate Together was granted patronage of these schools largely on the basis of need for greater diversity of provision and increasing parental demand for its model of education. Educate Together also recognises the commitment of local campaigners who worked hard to advocate for Educate Together's model of education for their communities. 
Serious accommodation concerns
Unfortunately none of the twelve new schools opening this year will open in their permanent accommodation. This is has become a systemic problem, impacting on almost every newly opening school in Ireland. Many of the schools which Educate Together has opened in the last decade remain in temporary accommodation, awaiting the delivery of permanent solutions. The result is unnecessary and increased pressure on school management and a waste of public funds. 
Educate Together is committed to working closely with the Department of Education and Skills (DES) and other stakeholders to ensure new schools open in a manner which is as positive and efficient as possible. Educate Together's suggestions for addressing issues around accommodation are briefly outlined below and have been communicated to the DES:
Make the provision of permanent buildings for schools a condition of the granting of planning permission for new housing estates so that schools are ready when families move in.
Secure the permanent location of a new school as soon as it is decided that one is needed.
Start the 'patronage determination processes' for new schools only once there is certainty on the location of the school.
Whilst difficulties with accommodation certainly exist, Educate Together hopes that opening new schools in permanent accommodation will become the norm in the future.
Westport ETNS 
Westport ETNS in Co. Mayo will also open this September as part of the 'divestment process'. This will leave 13 areas still waiting for their 'divestment schools' and Educate Together looks forward to working with the DES to bring this project to completion in the coming years:
Educate Together has announced its intention to apply for new second-level schools to open in 2020 in Dublin, Meath and Wicklow. Educate Together has set up a campaign web page here.