Educate Together is delighted to announce Dr. Nicola Martin Hodgins as Principal of Newtownmountkennedy Educate Together National School. Nicola will lead the school community in their new school that will open in the Wicklow town this August. Nicola is replacing Gemma Curry, the previously announced Principal, who is unable to take up to role due to other commitments. Gemma remains a strong supporter of Newtownmountkennedy ETNS.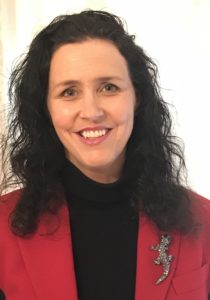 A dedicated Primary teacher for over 18 years, psychologist and Doctor of Education as well as a specialist in leading childhood wellbeing and resilience interventions at school, Nicola has had roles as Mainstream teacher, Special Education Co-ordinator, Assistant Principal and Acting Deputy Principal. In this time, she tapped into the wealth of diversity within schools and worked alongside children, families and staff in illuminating the latent power of the pupil's voice in education.
Said Nicola on her appointment:
'My joy of instilling a love of life-long learning in children is coupled only by my enthusiasm for stimulating the child's inquiring mind using holistic teaching approaches such as enquiry-based learning, drama, mindfulness and experiential learning.'
Nicola continued, "My vision is driven by the Aristotelian concept that 'educating the mind without educating the heart is no education at all' and I am both delighted and privileged to be appointed Principal of Newtownmountkennedy Educate Together National School. I look forward to working together to cultivate a welcoming, stimulating, caring and thriving school for all. A learning community that not only nurtures the holistic development of each child but celebrates the Educate Together ethos of empowering democratically run, equality-based, co-educational, child-centered education."
Said Anne Gregory, Chair of the school's start-up group,
'We are delighted to welcome Nicola as our Principal. Her reputation as a teacher precedes her and we are sure she will be a tremendous leader of our school community as it grows and develops".
Newtownmountkennedy ETNS will open its doors on Thursday August 29 2019 in temporary accommodation in the town. The Department of Education and Skills are completing the acquisition of a site for the school with construction scheduled to commence on the "state of the art" building in the coming years.