Young scientists from the laboratories and classrooms of Midleton Educate Together National School made an impact at the 2012 RDS Primary Science Fair!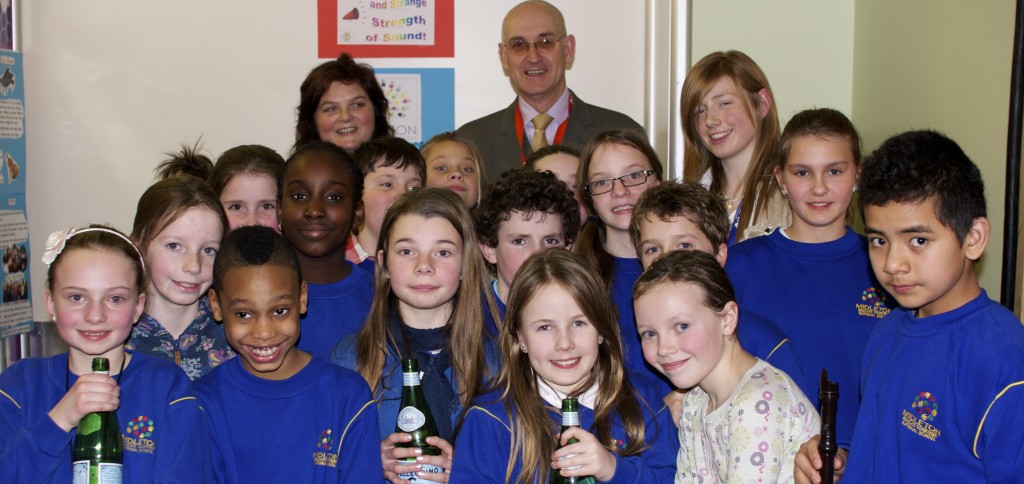 The fair, which is part of the BT Young Scientist and Technology Exhibition, provides an opportunity for students to think about science in practical and fun ways and helps to develop their skills in communicating their interest and knowledge of science to others.
The children of 4th and 5th class at Midelton ETNS impressed with their project, The supreme and strange strength of sound, which involved the students examining and discovering sound in all aspects of the curriculum. The students discovered the relationship between vibrations and pitch, about sound waves, and they had great fun designing constructing and playing their own instruments!
Midelton ETNS Teacher, Aisling Beecher, praised the hard work that the students put in, They are an extremely musical class, and it was this love for singing, playing and listening to music that sparked off their curiosity and interest in sound. The children were delighted and excited at the prospect of visiting the Primary Science Fair in Dublin. We are confident that the experience left a lasting impression on them and a hunger for future scientific explorations.
Over 3,000 primary school students representing 120 schools from across Ireland displayed their projects at the fair. As usual, Educate Together schools punched above their weight – with young scientists from six Educate Together National Schools – Galway, Midleton, North Kildare, Belmayne, Balbriggan, and Castleknock – exhibiting their projects. Although Educate Together pupils make up just 2% of the overall primary school population in Ireland, their work is regularly selected for inclusion.
Educate Together CEO Paul Rowe visited the exhibition to find out more about the projects exhibited by pupils from Midleton ETNS. He said, 'I would like to congratulate every Educate Together pupil, teacher and parent involved in working on these very impressive scientific investigations. Today's school pupils will be members of the knowledge economy of tomorrow and I'm delighted to see Educate Together schools at the forefront of this movement'.