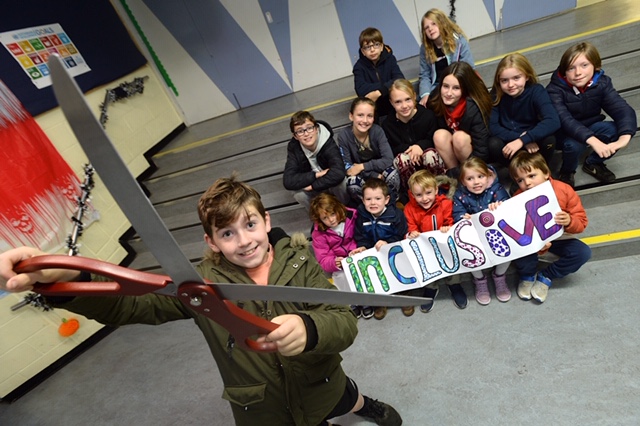 Dalkey School Project – Ireland's first Educate Together School – celebrated over 40 years of inclusive education this weekend. In addition to a tree planting ceremony with founders of the school and local supporters on Friday 25th October; parents and the wider school community officially launched the 'Meet the kids behind the cuts' campaign. The campaign seeks to highlight the ongoing challenges for children within the additional needs model.
Parents are calling on the Government to provide one Special Needs Assistant (SNA) per classroom and a fair, transparent and support system for children with additional needs. The campaign focuses on real stories of children and parents who are directly suffering as a result of an inadequate provision of resources by the Department of Education and Skills. The campaign also shines a light on the wider state system that is failing in its responsibility to support children with additional needs.
Rachael Prendergast Spollen, parent and Chair of the campaign explains why parents were driven to start the campaign; 'Special needs assistants make an incredible difference in our childrens' lives and recent cuts in the school added to the struggle parents face to access support services from the HSE has now reached crisis point. Too many children and parents are continuing to suffer, and our children deserve better. Nobody can argue against giving every child the best possible education. Under the current system that isn't possible, but if we can inspire our politicians to work with us, we, the school community really believe we can change this system to support every child to flourish'
Parents and the whole school community are calling on the Department of Education and Skills to deliver the following as a matter of urgency:
      A Special Needs Assistant (SNA) in every classroom.
      Transparency in how applications for SNAs are processed.
      A much-needed school building extension; Dalkey School Project National School is waiting 12 years for appropriate and safe environments for our children to learn. As a result, children are being taught in corridors.
      Immediate resources to eliminate Assessment of Need waiting lists (for Early Intervention and School Age Team assessments)
      National Education Psychological Service (NEPS) psychologists to be resourced properly to provide a working service for our children.
      That clinical recommendations from professional practitioners are fulfilled.
      A fair and transparent policy regarding allocation of SNAs for children with additional needs, one that is child centred with the safety and protection of all children at its core.
      Urgent reform/action as too many children and parents have and are continuing to suffer.
Principal of Dalkey School Project National School, Miriam Hurley outlines the importance of inclusivity in education; 'Looking back at the success of Educate Together nationally, we can see how instrumental the founders of Dalkey School Project were in changing the face of education in Ireland. Every school in Ireland now strives to be an inclusive and welcoming environment yet inadequate resources means this is not true for all children. Children with additional needs are being left out. We want to work with our educational partners and local political representatives to maintain our inclusive environment. '
Meet the Kids Behind the Cuts – why are we campaigning?
Two Special Needs Assistants (SNAs) in Dalkey School Project NS were made redundant in August 2019. Staff and parents are now concerned there will be further cuts.
 Only 9 children in Dalkey School Project NS have been granted official access to an SNA.
 Access to an SNA for a further 3 children was denied this year despite these children meeting the criteria set out by the Department of Education and Skills circular. Additional information from external professional practitioners was supplied for each child and again the school was declined with no clear explanation given.
Dalkey School Project has 234 children in the school and an allocation of 6 SNAs. These 6 SNAs actually support many more children who are in need of additional interventions and strategies.