Educate Together is delighted to announce Niamh O'Toole as newly-appointed Principal of Killester Raheny Clontarf Educate Together National School, opening in 2019.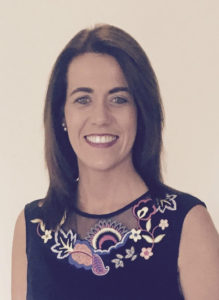 A graduate of Coláiste Mhuire, Marino and Trinity College Dublin, Niamh holds a Certificate in Multi-Denominational and Ethical Education from St. Patrick's College, Drumcondra/DCU and a Postgraduate in Educational Leadership (Tóraíocht). She is currently in her second year of a Masters in Education (Specialism in Leadership: M.EdL) in Maynooth University.
Níamh has an abundance of experience in education, both at home and abroad. Most recently, she was the first permanent teacher in Broombridge Educate Together National School where she led new initiatives and taught in the newly developing school. She has taught previously in Bracken Educate Together National School and in St. Vincent's Primary and in Australian and African communities, leading curriculums and teaching diverse students in very challenging circumstances.
Níamh has experienced first-hand both the challenges and rewards of inclusive practice. She has liaised with parents of children with English as an Additional Language (EAL), Special Educational Needs (SEN) and Emotional Behavioural Disorder (EBD). She has also taught in ASD Outreach classes.
She has been involved with policy formulation and development in both of her last two schools and led the Science, Green Schools and Student Committees. She is a passionate advocate of the listening to the student voice.
Said Níamh:
'I very much look forward to leading and collaborating with the students, staff, parents and whole school community of Killester Raheny Clontarf ETNS. My passion lies around encouraging positive behaviour and in creating a positive school culture. I intend to establish a centre of excellence for teaching and learning whereby all children can be catered for inclusively; morally, spiritually, academically, emotionally, physically and socially.'
Said Liz Martin, school manager of Killester Raheny Clontarf ETNS:
'Niamh is steeped in the Educate Together ethos and I'm sure her experience and leadership will prove to be a great asset to the new school community.'
Killester Raheny Clontarf Educate Together National School will open in September 2019 in  temporary accommodation in Suttonians Rugby Club on Station Road while the Department of Education sources its permanent accommodation.