Join the Team… Run with us!

April 15, 2012, Phoenix Park
A note from Educate Together CEO, Paul Rowe:
"Over the past couple of years I have done one personal fundraising appeal for Educate Together. I've done a parachute jump, a sponsored 200k cycle and a 10k run. This year, in April 2012, I am going to do the Great Ireland Run. I would like other supporters to join me. Run, jog, walk, or stumble 10k in the Phoenix Park on a Sunday morning in a team, each one of us raise as much as we can using Educate Together's myCharity website.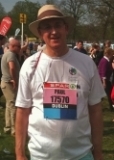 This is a personal appeal. If you can walk, you can do this challenge. I'm a very unfit 60 year old and I enjoyed it last year. If you can run even better. We won't hold you back! Anyone who joins me will get a full support pack including T-shirt for the day, myCharity page, fundraising support, schedule and tools, a great team atmosphere, a super day out and a great sense of achievement.
You'll also be getting yourself a bit fitter! For all those of you in schools, you can encourage children to participate in the short 2.5k Junior Great Ireland Run that takes place the same day. It's a super way to promote an active lifestyle & social activism in your schools.