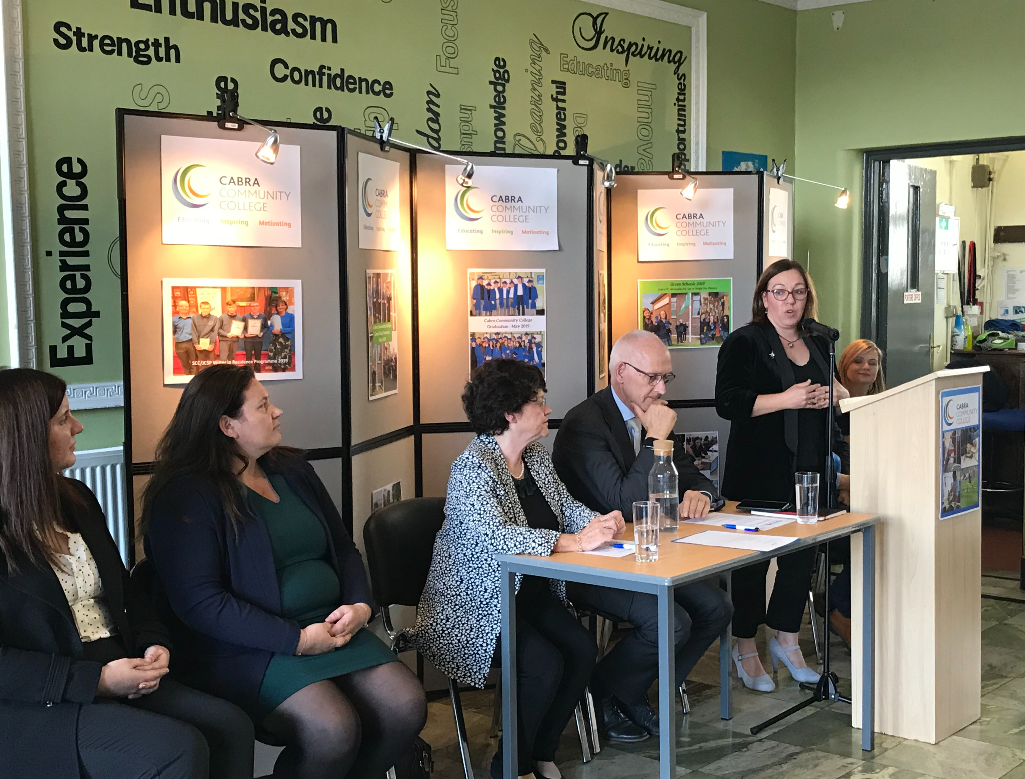 Equality-based school patron Educate Together has today announced that Jennifer Cummins is stepping down as Educate Together chairperson after five years leading the organisation's board. The organisation has thanked Jennifer for her contribution as a highly skilled volunteer at school, patron and board level over the past 14 years.
A director since 2014, Jen was elected vice chairperson in 2015, before taking up the role of chairperson in 2017. As chair, Jen has overseen a time of considerable change and innovation in the Educate Together network and national office. During this time the movement has grown from 77 to 117 schools, celebrated its 40th anniversary and watched the first sixth year cohorts graduate from its groundbreaking second-level schools.
Since 2017 considerable funding has been secured for ethos and curriculum development, enabling the launch of a new Quality Framework and the completion of the Ethical Education curriculum to senior cycle. As chairperson, Jen also managed the transition from the organisation's founding CEO, Paul Rowe, to the appointment of the current chief executive Emer Nowlan in 2020.
Co-ordinator of Ballymun Anseo School Completion Programme, and parent of four, Jen first became involved in Educate Together when she was seeking a primary school for her children in 2008. Once she became an Educate Together parent, she quickly became involved in the organisation, she served on the patron executive and Board of Management of Griffith Barracks MDS, the school her children attended, before joining the national Board of Directors.
Speaking this week, Jen said:
"It has been the greatest pleasure to serve on the Board of Directors of Educate Together since 2014. My time as ordinary board member, vice chair and chairperson has allowed me to meet likeminded people, to share in the values I have for education, family and community. It has been an honour to represent the board at AGMs, with the various education ministers, while visiting schools and in attending debates on Educate Together's fundamental foundation in the education system."
Jen has brought great knowledge, skill and commitment to the organisation over the past eight years and she will be missed by the board, the national office and the school network. Speaking about Jen's departure, CEO Emer Nowlan said:
"Jen has shown immense dedication during her time on the board. As chair over the past five years she has provided strong leadership and a steady hand through an important time in Educate Together's development. Her understanding of educational inequalities and her commitment to the organisation's democratic and student-centred values have enabled her to make an enormous contribution to the development of equality-based education in Ireland. On behalf of everyone in the national office and our school network, I want to extend the most sincere gratitude to her for her time, her work and her support, and to wish her the very best for the completion of her doctoral studies."
At its meeting on Wednesday 21st September, the Board of Directors appointed vice chair Emma Lane-Spollen as acting chairperson. Emma joined the board in April 2019 and was appointed treasurer in 2020 and elected vice chair in 2021. Emma is an independent consultant with extensive experience in strategy, advocacy, organisational development, planning and finance, and she recently took on the role of national coordinator for the Ukraine Civil Society Forum. Prior roles include CEO of the Tomar Trust and deputy CEO of the One Foundation. Emma is a qualified management accountant and has extensive board experience, currently also serving on the board of Friends of the Earth. Her children have attended Educate Together schools in Dublin and Cork.