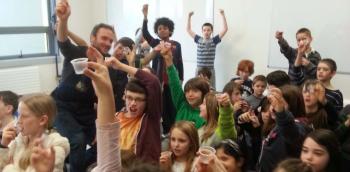 Greystones Educate Together began its pilot Healthy Eating Fortnight on January 13th. The initiative was coordinated and run jointly by the teachers and the Parents Association. Pupils from Junior Infants to First Class took part in the programme, and they were all very excited to GET Healthy!
The programme was a great way to encourage the children tohave fun while enjoying some healthy snacks and to build on and reinforce the healthy eating culture within the school. Every day the children got to taste a new fruit or vegetable during their small break. This gave them the opportunity to perhaps try something new for the first time, or to try something that they had been reluctant to eat before.
Parents kindly volunteered to prepare the wonderful variety of healthy, tasty, fresh fruit and vegetables on offer which ranged from from pomelo to carrot, mango to cherry tomatoes and celery to melon. Each child received a shiny sticker in their homework journal for every new fruit or vegetable they tasted and were proud to show these off at home every evening!
On the closing day of Week 1 the school was especially delighted to welcome the guys from the very well-known Happy Pear natural food market and cafe in Greystones Village. They brewed up a 'smoothie-storm' with fresh smoothies to delight even the most reluctant of fruit and vegetable eaters! Week 2 ended with all children contributing their favourite vegetable which was then used to make yummy vegetable soup, thanks to volunteer soup-making parents! Perfect for a rainy winter's day!
At the end of the fortnight, each child was presented with their own personalised certificate congratulating them on their participation in the programme, along with their very own packet of pea seeds and pot for planting, so the awareness raised during the fortnight at school could continue into the home.
The money to fund this pilot programme came directly from money raised by the Parents Association from the school's 'Clothes Recycling Collections'. The money raised from this collection allowed the programme to be piloted to over 180 children! Greystones Educate Together hopes to continue the GET Healthy Programme in 2015!