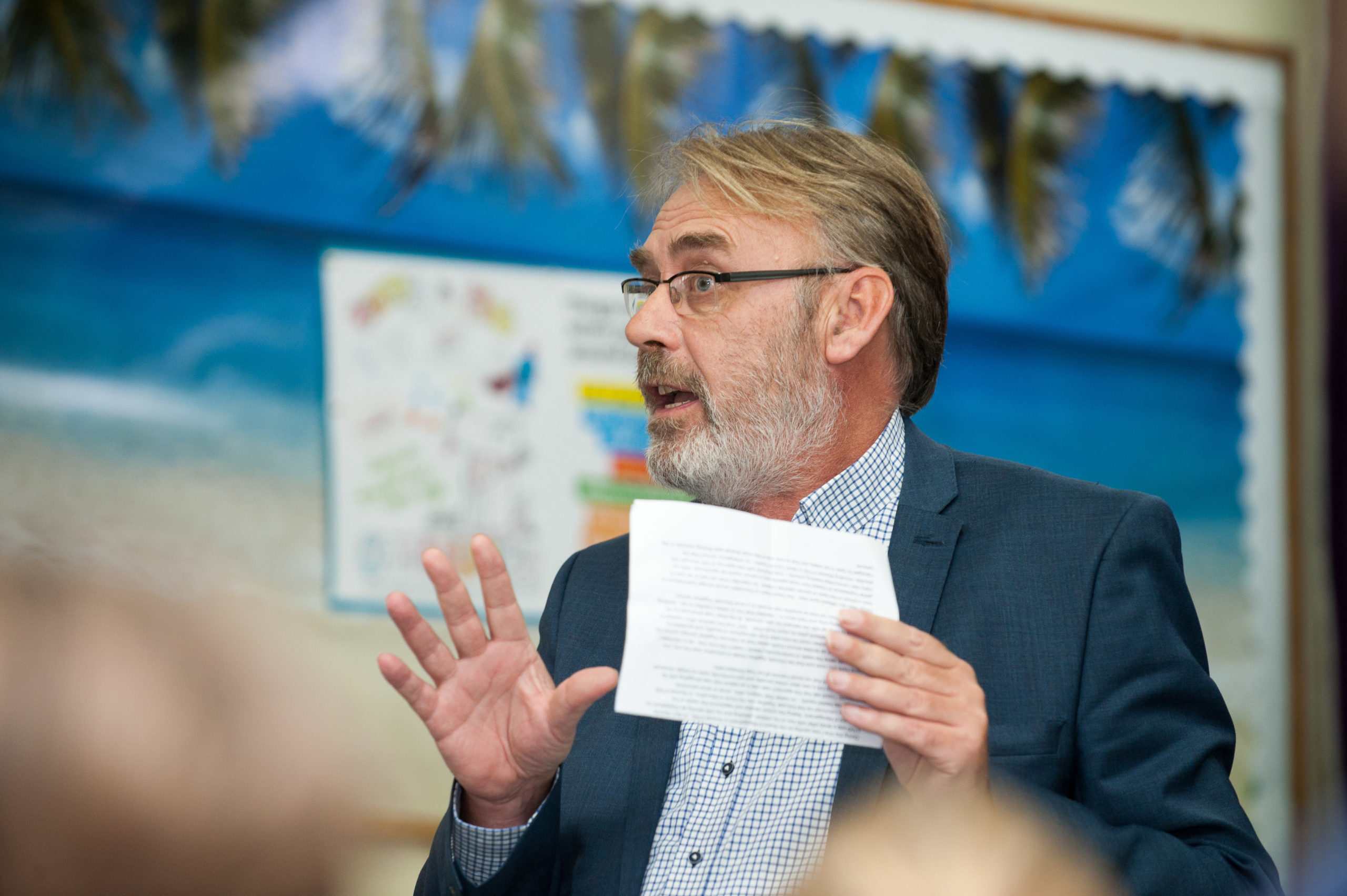 After more than 16 years of dedicated service as a staff member in Educate Together, and a previous 9 as a committed volunteer, Gerry McKevitt is retiring from his role as New Schools Officer this month.
As both a volunteer and a staff member, Gerry played an active role in establishing and managing fledgling schools across Ireland. He first became involved in Educate Together in 1999, as a parent member of the campaign group which resulted in the opening of Swords ETNS, and went on to support many other start-up schools as a volunteer. He was the first Regional Development Officer to be appointed to the Educate Together national office in 2007 and later became the organisation's national New Schools Officer.
In August of 2007, Educate Together was requested by the Department of Education to open an emergency school in Balbriggan, Co Dublin in response to a shortage of school places in the Balbriggan area. Educate Together agreed and plans were put in place to set up a school to accommodate a list of 32 children who did not have school places in the area. Gerry was recruited to open the school, and successfully did so in the face of huge challenges. At each step in the process, Gerry found creative solutions to what seemed like intractable problems and Bracken Educate Together National School opened its doors to 70 pupils in just four weeks, and is now a thriving well-established school.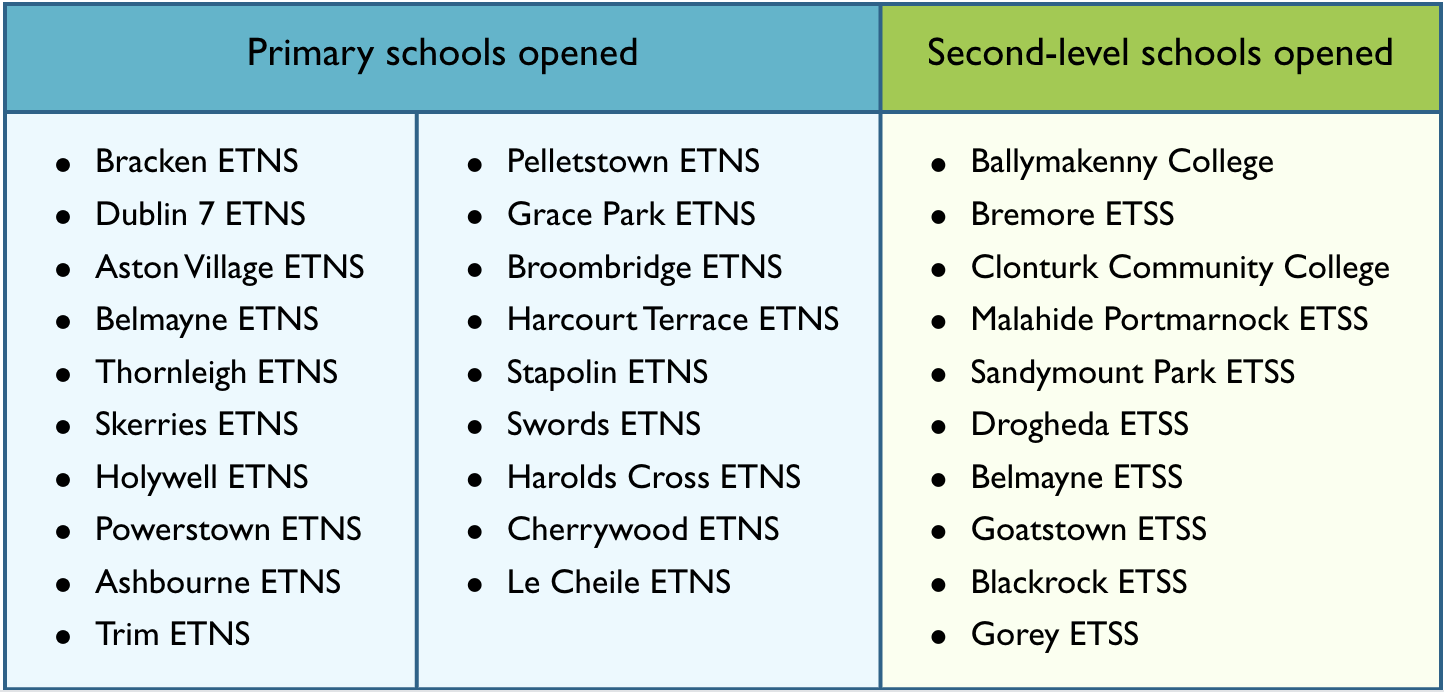 Gerry went on to apply this creativity and resourcefulness to open and manage more than 30 more primary and second-level schools during his 16 years as a member of the national office team, and it is fair to say that there is nobody else in Ireland who knows more about supporting start-up groups and opening schools than Gerry McKevitt. As well as his new schools work, Gerry has also provided school management support and guidance to many other schools during his time in the national office. Through all of his work, Gerry has made an enormous contribution to equality-based education in Ireland.
Educate Together thanks Gerry for his commitment over many years and wishes him well on his retirement and future endeavours.
_____________
"Gerry's commitment to Educate Together's objectives has been unwavering over the past 25 years, and I feel very lucky to have worked with him over much of that time. He knows more about opening and managing new schools than anyone else in the country, and we have all learned so much from him. He will be missed in the national office and across our network, but his legacy is huge, in the equality-based schools that he has opened, managed and supported all over the country. We all wish him well in his retirement."
Emer Nowlan, CEO, Educate Together
"Gerry was and is held in the highest of esteem by everyone at Blackrock ETSS. Gerry helped to establish the school during the pandemic and managed to keep a critical number of parents on board through regular Zoom meetings. His calm, reassuring and good-humoured approach instilled a sense of confidence in parents and was undoubtedly a key factor in our school opening as per the plan in September 2021. Gerry's emphasis of our Educate Together values of inclusion, partnership, democracy and equality struck a chord with parents and helped to put the new school on the map. As a veteran of opening new schools, Gerry had an extensive knowledge of all of the different systems that had to be set up in year one. He was always generous with his time and his knowledge. Everyone in Blackrock ETSS would like to wish Gerry all the very best of luck in his retirement."
Donal Evoy, principal, Blackrock ETSS
"We in Balbriggan ETNS are indebted to Gerry for the work he undertook on our behalf with the Department of Education Planning and Building Unit. Frequently, too frequently, deadlines that had been given to us for the development of our permanent building passed. Gerry accompanied myself to Tullamore to thrash things out and was an able negotiator for us. We wish Gerry and Elaine, who also came to our rescue, the very best." 
Fintan McCutcheon, former principal, Balbriggan ETNS
"Gerry was a great support to us in Donabate/Portrane ETNS as we battled to get a permanent home. He was so approachable and a great sounding board for me when I needed to vent! He showed great empathy and understanding during tough times but even more importantly he brought a great sense of humour with him too which helped keep spirits up. He will be hugely missed by Educate Together."
Maeve Corish, former principal, Donabate Portrane ETNS
"I have unforgettable memories of working with Gerry in setting up Bracken ETNS in 2007. It was a hectic time with many challenges. We developed a great working relationship. Gerry gave endless time and energy to the school and was totally committed to making it a success. Gerry will always be a part of Bracken ETNS and his contribution will never be forgotten. Best Wishes on the next phase of your journey, Gerry. It is well deserved."