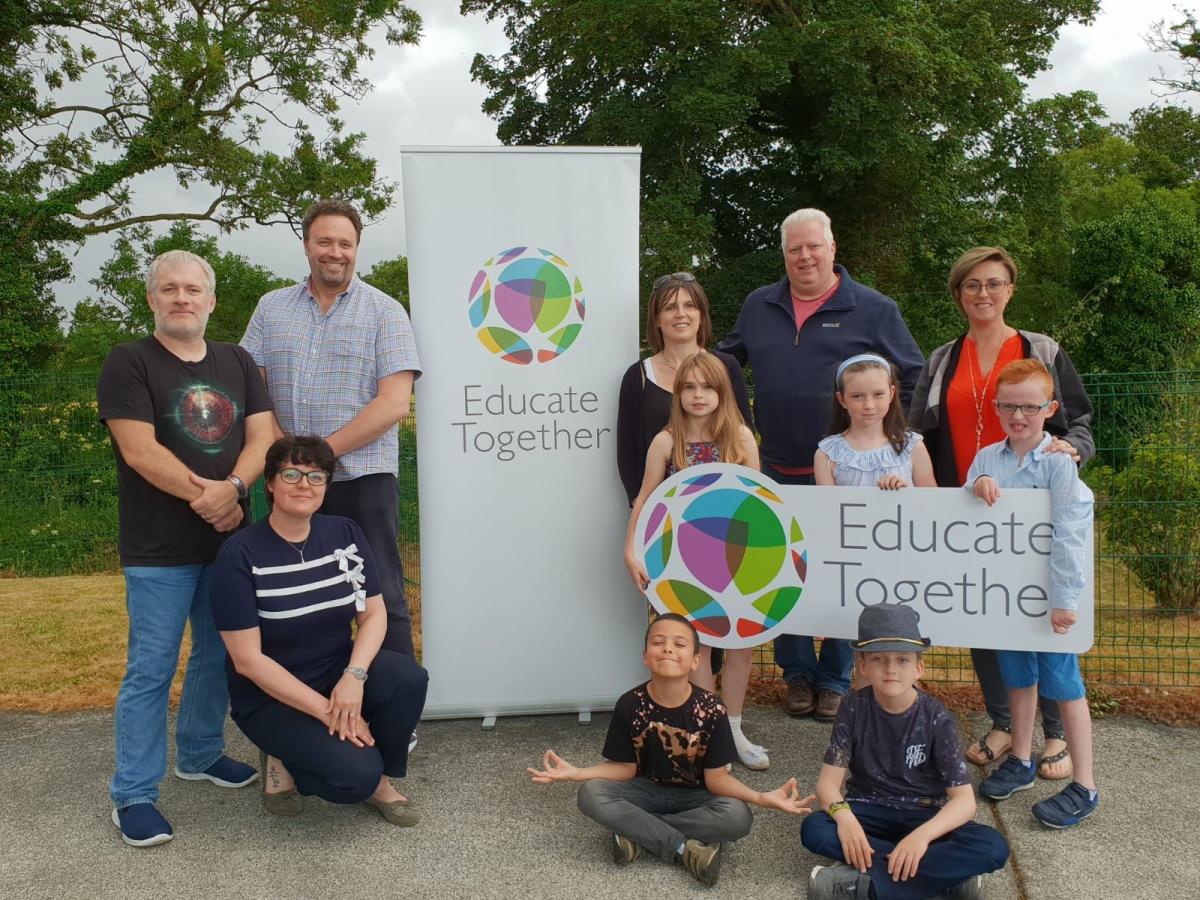 December 2018: Enrolment Open for First Years Starting School in 2019 Only – links below: 
October 2018: Educate Together To Open Four New Second-level Schools in Dublin, Galway, Meath and Wicklow
Educate Together is delighted to have been awarded patronage of four second-level schools in Dublin, Galway, Meath and Wicklow to open in 2019, as announced by the Department of Education and Skills today.
The opening of the Online Patronage Process Survey was announced on June 22 and closed on July 31. Families in the four areas were requested to visit a Department-run website and choose their preferred patron. That so many chose Educate Together is truly indicative of the desire for equality-based education at second-level.
Louisa Meehan, campaigner, Wicklow Educate Together Secondary School Campaign:
"We are so happy to learn that we will now have an Educate Together secondary school in Wicklow. Many families campaigned hard for this – those with children in Educate Together wanted them to continue their education in an atmosphere of equality and inclusion while others wanted their children to have their first Educate Together experience at second-level. Either way it is a great result for Wicklow and we are really looking forward to the next steps towards opening the this Educate Together Secondary School."
Paul Rowe, CEO, Educate Together:
"I want to pay tribute to all the volunteers that stepped up to campaign for these schools. This is true people power and the opening of these equality-based schools is their achievement. These volunteers have been giving up their free time canvassing at shopping centres, delivering leaflets and talking to other parents about what Educate Together means to them and their children. They are doing all this for their children, local families and the wider community – Educate Together would be nothing without the support of these committed volunteers. We are looking forward to working with these communities to nurture four brand new second-level school communities.'
Principal recruitment for these schools will begin shortly. Parents who expressed interest will be contacted shortly and the admissions process for the schools will open in the coming weeks. Admissions Policies will be available at on the Educate Together website. Accommodation has not yet been confirmed for any of the schools.
Educate Together will soon apply for national schools in 12 areas in Cork, Dublin, Kildare and Meath through a similar online patronage process. More details can be found  the coming weeks. Admissions Policies will be available on the Educate Together website and via the hashtag #VoteEducateTogether.
Our campaign groups have been reacting to the good news this morning:
Sandra Adams, Dublin 13 Educate Together Second-Level Start-up Group: 
"We are please with the Department of Education's decision to award the patronage of the new Dublin 13 second level school to Educate Together. It has been a long road for parents and students who have worked tirelessly to secure a second level progression path that recognises the value of inclusiveness. This is only the first phase in the process to deliver a fully functioning, adequately resourced second level Educate Together school for Dublin 13. We hope that a permanent building will be open within two years so that children who chose Educate Together secondary schooling are not disadvantaged."
Marguerite Hughes – Galway Educate Together Second-Level Start-Up Group:
"Today's announcement represents the culmination of years of campaigning by families in Galway. The five thriving Educate Together primary schools in the county provide abundant evidence of the demand for Educate Together and it is wonderful that the students who attend these and other primary schools can now access second level education in a school with their preferred ethos."
Brendan Fogarty, Galway Educate Together Second-Level Start-Up Group
"The selection of Educate Together as the patron body to operate Galway's new post-primary school is a welcome addition to Galway's educational landscape and will provide greater choice to second level students in Ireland's most multicultural city."
Catherine Baker, parent campaigner for ETSS in Drogheda/ Laytown. 
"Its fantastic news for South Drogheda and East Meath to have an Educate Together school on the South side of the town. My son started in Ballymakenny College this year and has settled in with such ease, the teachers are so supportive, open and friendly. It is very exciting that we will have a second Educate Together secondary school in the town with a warm, inclusive & happy learning environment."
Isolde Gavin, parent campaigner for ETSS in Drogheda/ Laytown.
'We're thrilled with this news. Local parents were so supportive of our campaign and so willing to help out and devote their time to ensure that their children could get access to the Educate Together model of schooling at second level. The parents whose children had accessed an Educate Together primary school were particularly eager to be able to send them to a secondary school with the same kind of inclusive atmosphere and emphasis on equality. '