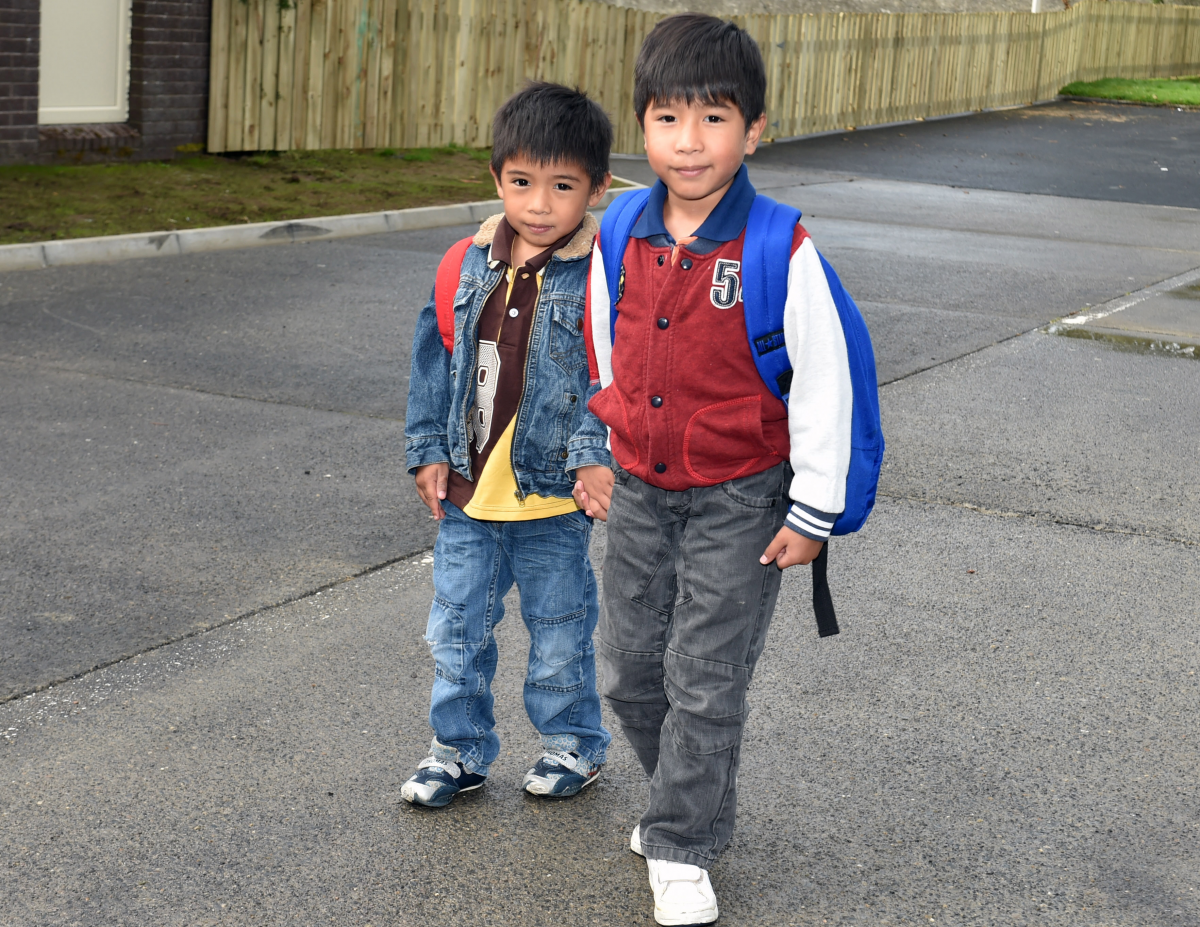 2015 sees the opening of three Educate Together national schools in Dublin, Wexford and Galway; and one second-level school in Kildare. This growth is due to widespread support for this equality-based model of education amongst parents and the pioneering work of volunteers in many communities.
Pelletstown ETNS
Educate Together was delighted to welcome 40 Junior Infants to Pelletstown ETNS this week. The school opened in the Rathborne Community Centre after which it is hoped that it will move to the former Castlethorn marketing suite opposite the Royal Canal Park development and adjacent to River Road. Pelletstown ETNS is a new school opened in response to demographic need.
Principal Caitríona Ní Cheallaigh: 'I am honoured to be appointed as the first principal of Pelletstown Educate Together National School. As a native of Dublin 7 I believe that this is a very special and exciting time for the Pelletstown area. I am looking forward to leading all members of the school community in the development of this new school'.
Gerry McKevitt, Regional Development Officer for Educate Together: 'I am delighted to have been involved in the start-up of this school and wish the Pelletstown ETNS school community and wish everyone all the best in this exciting journey'.
Educate Together will apply for patronage of three new Dublin schools in 2016 – Drumcondra/Marino; Cabra/Phibsborough and Goatstown/Stillorgan.
Two national schools also opened today under the divestment process:
New Ross ETNS
New Ross Educate Together National School welcomed thirteen Junior Infants this week. The school is based in temporary premises in Barrett's Park, New Ross. The Barrett's Park accommodation is temporary while the Diocese of Ferns and the Department of Education and Skills identify a more suitable permanent premises for the school.
Elaine French, Principal of New Ross ETNS: 'It is an exciting time for New Ross to be able to offer families the option of equality-based, child centred education with the opening of New Ross ETNS. We are very much looking forward to the year ahead to developing a dynamic, happy school community and to building a school culture focused on learning and high expectations of which we can all be proud'.
Chairperson of New Ross Educate Together Start-up group, Niamh Fitzgibbon: 'To see this school opening is a dream come true for us. Literally it has been a labour of love and we look forward to helping make the school as wonderful as it promises to be, in the best tradition of Educate Together schools throughout Ireland'.
Tuam ETNS
Nine children began their school lives today in Tuam Educate Together National School. The school is based in the former St Patrick's CBS on the Dublin Road.
Nuala Bourke, Principal of Tuam ETNS: 'We are really excited about the opening of Tuam Educate Together NS. It has been a very busy summer with all the building works, ordering resources and preparing policies so I can't wait to get stuck in to the teaching part, getting to know the children and building relationships in the community. Tuam is a vibrant town and I have been made very welcome. The highlight of the summer was meeting the nine families and already there is such a positive vibe. I can't wait to get stuck in!"
Local parent Sheila Empey: 'We were very excited when we heard Educate Together was coming to Tuam, and are delighted to be starting this next journey as a family with Educate Together.'
Jarlath Munnelly, Educate Together Regional Development Officer for Ireland West: 'I am delighted to see the hard work of the Tuam ETNS start-up group and local parents come to fruition. I would like to thank these parents and volunteers for their support.'
Background on Divestment
The new Educate Together National Schools in New Ross and Tuam opened as part of the divestment process. In 2011, the Forum on Patronage and Pluralism in the Primary Sector, was set up to create diversity and inclusiveness in the Irish primary school system. The Forum recommended that Catholic primary schools in 25 areas divest to Educate Together. New Ross and Tuam are two of ten schools that have now opened in divestment areas since 2012. In the case of Tuam ETNS, the building in which the school is housed was formerly a Christian Brothers school and New Ross ETNS is currently based in temporary accommodation while more suitable permanent accommodation is sourced by the Department of Education and Skills and the Diocese of Ferns.
This level of progress so far barely scratches the surface of what needs to be done – of ten divested schools, only three are in buildings that have been vacated by a Catholic school, and just one – a Church of Ireland school in Co Mayo – has transferred patronage.
We know that there is evidence of huge demand for Educate Together school places in Ireland. By the end of 2014, the average size of an Educate Together school was 248 children, the largest average size of any provider in Irish primary education. In 2015, more parents than ever before want to send their children to an Educate Together school.
Educate Together provides a model that accepts and treats all children equally and will continue to lobby for a true alternative to the virtual monopoly held by religious patrons in Irish education. The establishment of a national network of Educate Together schools that guarantee equality of access and esteem to all children is the solution.
Paul Rowe, CEO of Educate Together: 'We are working towards the day when every family can access an Educate Together national school within 30 minutes travel time from their home. Our estimate is that nationally we need around 300 Educate Together schools to achieve this. Today we have 77.'
Celbridge Community School
In addition to three national schools, Educate Together is also happy to welcome 70 second-level students to Celbridge Community School. Celbridge CS is a new community school opened in partnership with Kildare and Wicklow ETB. The school is currently based in in the premises of North Kildare Educate Together Primary School.
Principal Gerard O'Leary: 'I am very excited that we have arrived at the point where Celbridge Community School can open its doors to the most important members of a school community, our students. We look forward to building a dynamic and innovative school which will prepare the students of this community to meet the needs and challenges of the 21st century through the delivery of a holistic education.'
Amy Mulvihill, New Schools Programme Manager, Educate Together: 'Celbridge Community School is the culmination of collaboration between Educate Together and Kildare Wicklow ETB. We are anticipating an innovative school offering a robust curriculum and equality-based education'.