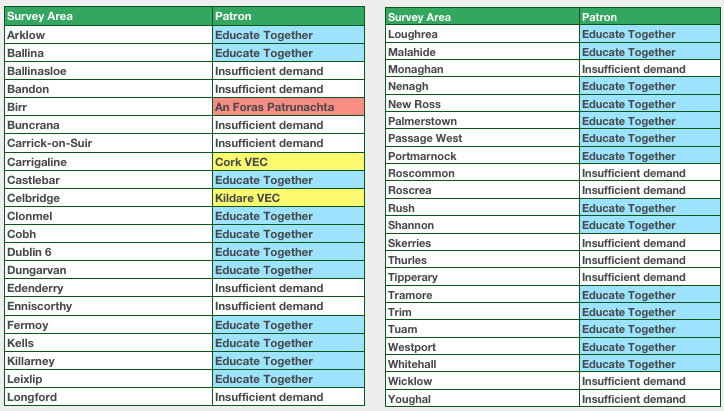 Full Survey Report Recommends 25 New Educate Together Schools
The results of the Primary School Patronage Survey, conducted in January, have been published by the Department of Education and Skills. 38 towns were surveyed and 20 of the 23 recommended for alternate patron provision expressed a preference for Educate Together schools. Five further areas surveyed in December last year all chose Educate Together.
Welcoming the survey results Educate Together CEO Paul Rowe (@PaulRoweET) said:
"Educate Together is delighted that so many parents across the country want an Educate Together school in their community. The Forum for Patronage and Pluralism has given parents in these communities the opportunity to express preference for the schools they want. We are honoured that so many communities have put their trust in Educate Together and our educational ethos."
The publication of the survey results marks the end of the first phase of the Forum for Patronage and Pluralism in Primary Education. 43 areas have been surveyed in total and of these recommendations have been made for 25 Educate Together schools; 2 Community National Schools (VEC) and one Gaelscoil. The committee overseeing the surveys does not consider that the remaining 15 areas currently show sufficient demand for a change of patron.
Paul Rowe again:
"Today's results are significant as they clearly show demand for diversity of school type exists across the country. Minister for Education and Skills Ruairi Quinn is to be commended for the Forum initiative. It has given parents a real opportunity to choose the type of schools they want for their children's education."
"The goodwill shown by the Catholic patrons to the Forum's process is also to be recognised. The survey results show that, in addition to the interest in diversity, many parents are very happy with the Catholic National Schools in their communities."
The report states that 15 areas are not recommended for change, as they do not currently exhibit viable demand for a new patron. It also recognises that this may change in the future at which time the position could be re-examined.
Commenting on these areas Paul Rowe said:
"In the areas where not enough parents have opted for Educate Together to make a school viable – there is a commitment to revisit these figures in the future. Educate Together is committed to supporting the rights of these families to access the education they want for their children."
There are currently 3,200 primary schools in Ireland, 2,900 of which are under Catholic patronage. Educate Together, established in 1978 to provide multi-denominational schools, has 74 primary schools nationwide. In addition to being multi-denominational, Educate Together schools are co-educational and are open to all children regardless of their social, cultural or religious backgrounds.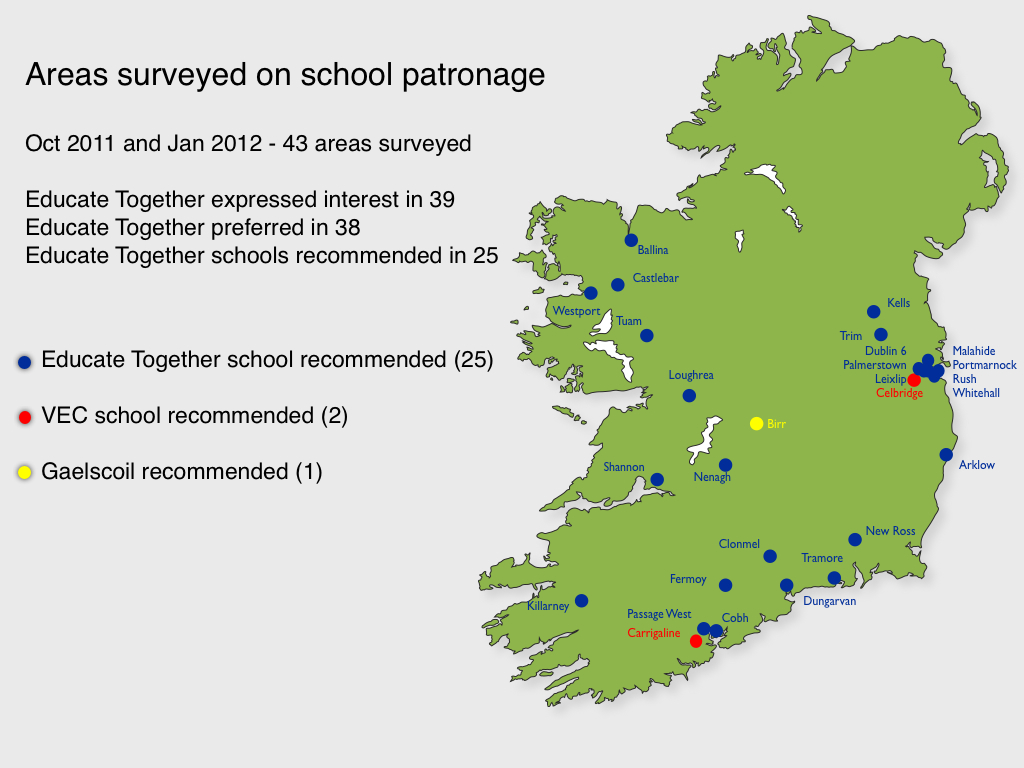 Keep up to date on Educate Together via Facebook, LinkedIn and Twitter
Find out more about Educate Together's ethos
If you have any questions please email us newschools@educatetogether.ie
Spread the word! Please share this page with other parents in your community: