Educate Together is delighted to once again be chosen as the charity partner of the Ireland Ranji cricket trophy this year.
We thoroughly enjoyed our day at the inaugural contest last year.
For Educate Together Ranji is an important and very positive example of our educational motto 'Learn Together to Live Together'. The famous man's engagement with Ireland and the mutual respect and affection that his family and the people of Connemara have for each other is a real testament to the type of mentality and spirit that we hope to nurture in our schools.
Educate Together is an educational movement that is founded on a commitment to provide equality of esteem to children irrespective of their social, cultural or religious backgrounds. Based on this, we have created a national network of schools, which this September will comprise 78 primary and 4 second-level schools in Ireland. Since last year we have also opened our first school in the UK, in Bristol. Just this week we are welcoming educationalists from England, Australia and Columbia who want to engage and partner with us on this approach.
Education for sustainable development in a global context, educating the current generation of children in our schools to be genuine global citizens who will tackle and solve the issues of sustainability for our planet is really important. Providing educational environments of equality and respect is essential to the creating the social and civic space that will central to resolving conflicts and addressing these crucial global issues.
The sport of cricket has a long history in Ireland and is now experiencing a resurgence, not just as a result of the efforts of our international team and the sporting drama of the Lion of Bangalore, but because it is proving to be a wonderful unifying sport for young children from many backgrounds in Irish schools. It is a sport in which children of different skills can fully participate and play to their strengths. It is a sport that combines team and individual skills, personal with group performance. It is also a sport that can easily be played in an informal, social and formal and competitive context.
We are delighted to be the charity partner and are looking forward to great weather for the day.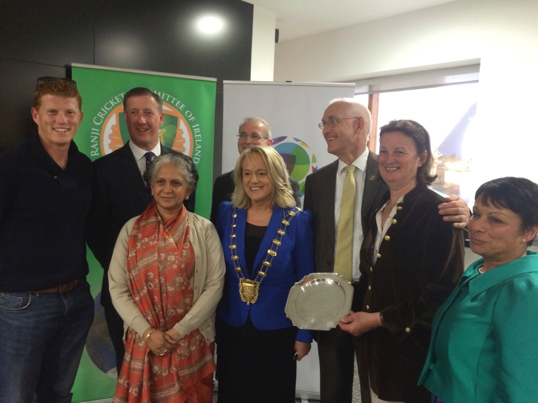 Kevin O'Brien, cricketer, Patrick O'Flaherty, Ballynahinch Castle Hotel, Smt.Radika Lal Lokesh, Indian Amabassador. Mags Murray, Mayor of Fingal, Ciaran Dennisan, County Councillor Fingal, Paul Rowe, Anne Chamber and Nanthi Ford, Irish Indian Business Association
The provisional date of Ranji is 1 August at Malahide Cricket Club, Co. Dublin