Pupils from Ennis Educate Together National School and Waterford Educate Together National School were very proud to have been at the Inauguration of President Michael D. Higgins in Dublin Castle on Friday 11th November 2011. Educate Together's CEO, Paul Rowe, also attended the ceremony, representing the entire Educate Together school community. Here's his account of how the day went:
"We had a wonderful day at President Higgins' Inauguration. The teeming rain and wind that dismantled the red carpet and kept the children indoors for the start of the ceremony could not dampen the spirits of the 350 school children who were special guests. Waterford and Ennis ETNS delegations attended, 35 children and teachers and parents. Despite being cooped up in the conference centre by the bad weather and being fed on chocolate brownies and marshmallows, all the children behaved superbly and there was a great friendly atmosphere between the children from all the schools of all school types.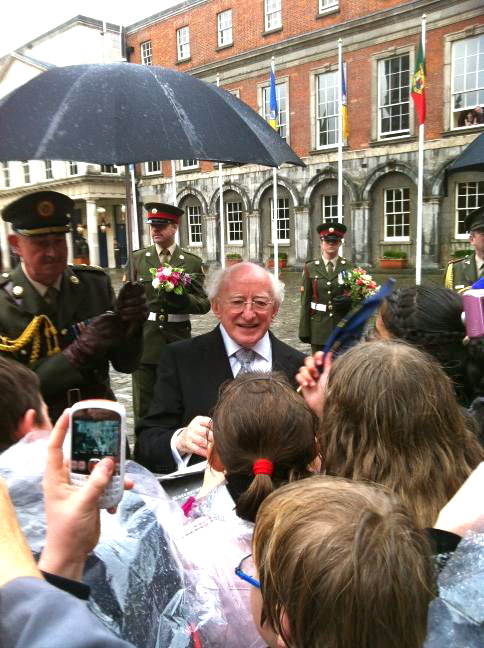 The new president and his wife have a special place in the history of Educate Together. As he himself wrote in a letter to graduating children in Ennis:
'My wife Sabina and I have it as one of our warmest memories that individually and together we served on the board of Galway School project, one of Educate Together's first schools in Ireland. Educate Together will be a great patron in education, celebrating as it does the great values of diversity solidarity, inclusion and participation. Creativity is at the heart of everything Educate Together do. Sí an cruthhaíocht bun-cloch fealsúnachta Educate Together.'
Through the throng of cheering children, a sixth class pupil from Waterford ETNS managed to present the new president with a special gift.
Afterwards, we managed to find a dry place under the bridge in the castle for a group photo.
The staff of the Castle, Office of Public Works, Department of Education and Skills (Primary Admin), the President's office and the Department of the Taoiseach were superb during the visit, especially as the weather forced much of the programme to be altered at short notice. Thank you all for making such a special day really memorable for so many young people."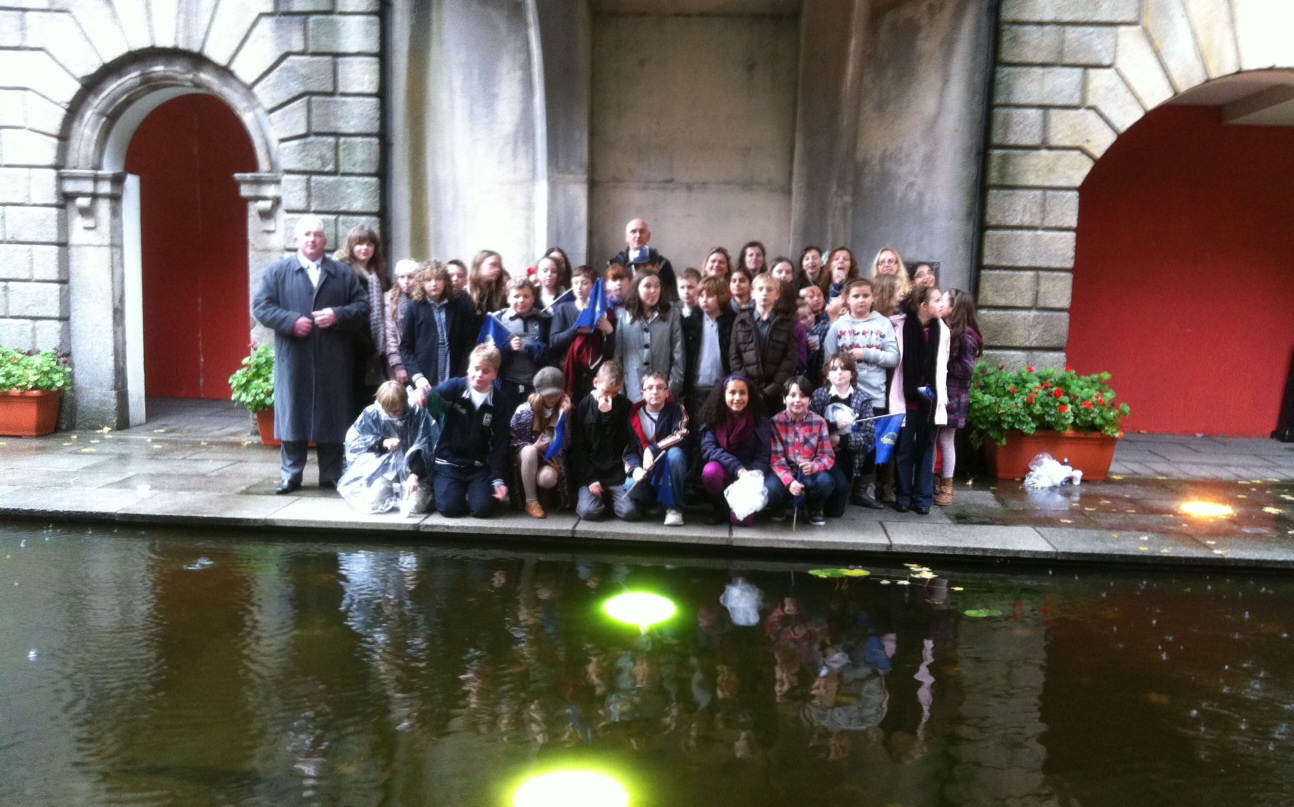 Michael D. Higgins & Educate Together
Michael D. Higgins and his wife Sabina have been long-time supporters of the Educate Together movement. Both were founding members of the Galway School Project (now Galway Educate Together NS). Sabina Higgins was the school's first Chairperson of the Board of Management. When Galway Educate Together NS moved into its new home in Newcastle in 2004, Michael D. Higgins officially opened the new school building.