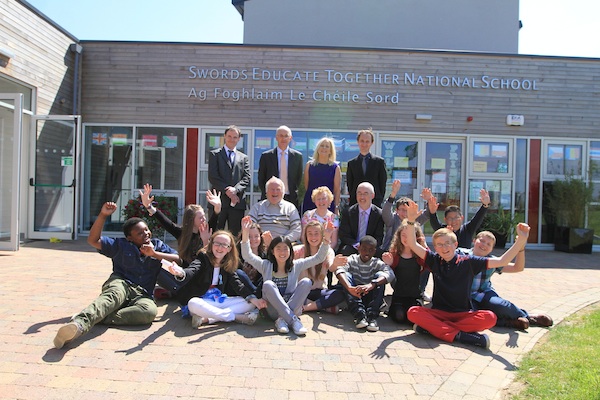 Educate Together celebrated 35 years of multi-denominational education at its Annual General Meeting on Saturday May 25th. The meeting, attended by representatives of Educate Together schools across the country, was held in Swords Educate Together National School.
Educate Together has grown substantially in the last 10 years, doubling the size of its school network. Three more new primary schools will open this September and the first three Educate Together second-level schools will open in September 2014. In addition parents in 25 areas across the country have requested Educate Together schools be opened in their communities under the Forum for Patronage and Pluralism.
Paul Rowe, Educate Together CEO, addressing delegates said 'With Educate Together marking 35 years in 2013, multi-denominational education has really come of age in Ireland. Today our schools are ever more in demand from parents all over Ireland, both at primary and now second level. Educate Together is committed to working with local communities to give them the education they want for their children and is calling on the government to ensure that adequate funding is made available to ensure these schools open. For the first time the Irish state has directly asked parents what type of schools they want for their children, parents have made their preference and the state has an obligation to fully support all the work that goes into making these schools open'.
Secretary General of the Department of Education and Skills Seán Ó'Foghlú was the keynote speaker at the AGM. He congratulated Educate Together on the body's emergence as a second-level patron, saying: this development is in line with providing more choice for parents and students. We have seen the popularity of ET primary schools and I wish you every success in your new role at second-level.
Mr Ó'Foghlú also wished the organisation well with the AGM, and concluded by saying that: so much of the formative years of a child's journey lies in the hands of our schools. Working together, we can ensure that we do our very best to provide the education that our children, and our society, deserve.
Educate Together opened five new primary schools this academic year and three more will open in September. The Department of Education and Skills is currently inviting applications for more new primary and second level schools planned to open to meet population growth. Educate Together will apply for patronage of a number of these schools, particularly where it has substantial established demand.
The first Educate Together school, Dalkey School Project opened in 1978, 2013 marks the 35th anniversary of multi-denominational education in Ireland.
Ends