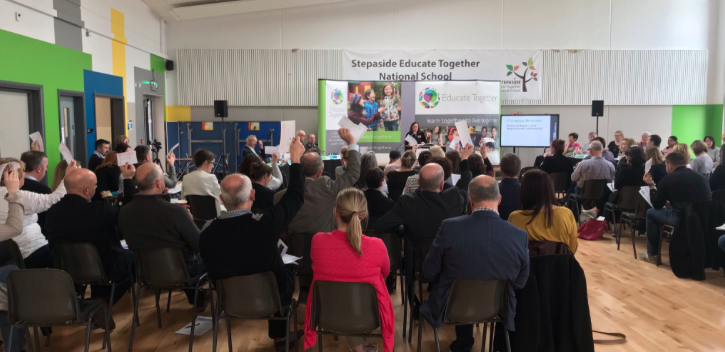 Delegates attending the 2019 Educate Together AGM at Stepaside Educate Together National School in Dublin last month heard of significant ongoing progress for Ireland's equality-based school movement. The AGM, attended by representatives of Educate Together's primary and second-level schools, was marked by lively engagement and decision-making, as well as celebration.
The 2018/2019 academic year marks 40 years since the opening of Ireland's first Educate Together school, the Dalkey School Project (DSP). To mark this landmark in equality-based education, Áine Hyland, Emeritus Professor of Education and former Vice-President of University College Cork and founding member of the DSP, along with Siobán O'Brien Green, DSP alumnus, and Paddie Murphy, former principal of Rathfarnham Educate Together N.S. and one of the authors of Educate Togeter's Learn Together Ethical Education Curriculum, all shared with delegates their experiences and memories from the earliest years of the Educate Together movement.
While now the most popular choice of school for parents in Ireland, delegates heard how the Educate Together equality-based school model was initially perceived as a radical threat to the status quo; with the DSP's founders facing an enormous uphill battle in the establishment of the school. Áine Hyland, quoting fellow DSP founding member, Micheal Johnston, shared with delegates how DSP also came to serve as a beacon of hope and possibility for those who were seeking an inclusive, state-funded education for their children:
"The Dalkey School Project now exists as a focal point for everyone in Ireland who would like to see the establishment of schools which are multi-denominational, co-educational, and under democratic management, wherever and whenever there is viable local support for such a school…The Project does not seek to abolish or even threaten schools [under denominational management] but merely to seek comparable facilities for those whose lawful and conscientious preference is to have children educated together."
The AGM also saw a number of changes to Educate Together's Board of Directors. Paul Croghan, Paddie Murphy, Anna Flanagan and Aidan Clifford all completed their terms as board members and stepped down; while Emma Lane-Spollen, CEO of Tomar Trust and a parent from Midelton ETNS, and Colm O'Connor, principal of Cork ETSS, were selected to join the board.
Delegates heard that Educate Together has made major progress on a number of fronts in the past year. Along with securing a million dollar grant from Salesforce.org, the philanthropic arm of Salesforce, Educate Together successfully opened four brand new second-level schools and two new national schools last September. Educate Together was also awarded patronage of a further four new second-level schools and eight new national schools due to open September 2019 by the Department of Education and Skills in the most recent patronage processes. This reflects the growing desire and determination of families around the country to establish schools where all children are equally respected regardless of social, religious or cultural background.
Addressing the AGM, Chairperson of the Board of Directors, Jen Cummins, said:
"Educate Together is leading the education field is so many ways. We are becoming the norm. We are no longer an outlier. We are the school of choice for parents and this is evidenced with the consistent number of schools which we open, the grants we attract and the positivity which we instil."