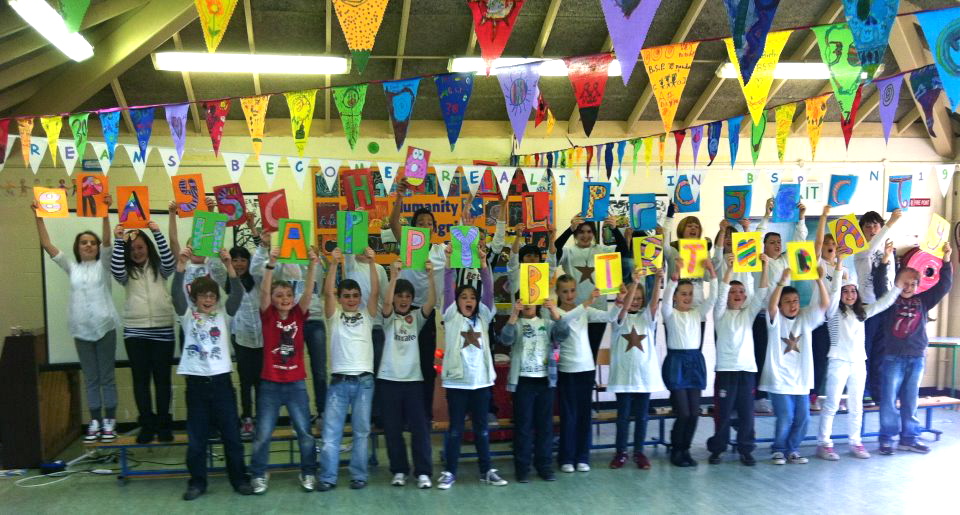 The second ever Educate Together school to be established in Ireland, Bray School Project, has marked its 30th anniversary this year.
A series of events culminated on October 27th with 'A Friendship and Memories' event with some of the school's founding teachers and parents.
School principal Carol Lannigan spoke of her pride on the day 'It was a really lovely day, full of emotion and happiness. Every child in the school made a piece of bunting with an individual message – all of which decorated the assembly hall. Our day of celebration was launched on a rainbow of good wishes from our current pupils to those who established the school back in 1981'.
Educate Together CEO Paul Rowe who also attended, spoke of his admiration for the founding parent's group 'The establishment of Bray School Project was as important as the first Educate Together School in Dalkey. It showed that the Educate Together movement wasn't a one-hit-wonder and with ongoing parental support had a strong future ahead of it. The challenges of opening this school were significant, but they were met, overcome and today we can celebrate a 30 year legacy of excellence in education'.
Bray School Project opened in 1981, three years after Dalkey School Project. It was originally located on Bray main-street where the mermaid is now. It moved to its current school premises ten years later and is now hoping to extend with a special ASD unit in the near future. The original Educate Together schools required extensive parental fundraising for their establishment as sites had to be secured. All that has now changed and there are now 60 Educate Together primary schools and the patron body hopes to open up to a dozen new primary and potentially four second-level schools in the next few years.
However the Bray celebrations were very much about celebrating the past as much as looking to the future. The first Principal of the school, Kieran Griffin spoke of almost being late for his first day in school as his first child was being born! He rushed directly from Hollis Street to the school and was, thankfully, on time. Other members of the original staff and founding parents also partook in the celebrations including Alice Lawless, Mary McGarry, Angela Jennings, Peggy Masterson and John Doyle.
As a lasting legacy of the anniversary the school, whose logo is a celtic spiral, has commissioned the creation of a special flag. The flag will feature a spiral which will be made up of the thumbprints of every child in the school. The founding parent's and staff were the first to apply their prints.