Delegates attending the 2023 Educate Together Annual General Meeting at Griffith Barracks Multi-Denominational School in Dublin 8 on Saturday 6th May 2023 heard of significant progress for Ireland's equality-based school movement.
Educate Together's CEO Emer Nowlan outlined the national office's progress on advancing Stronger Together, the organisation's strategic plan, and reported on progress made in the preceding year:
The Educate Together national office achieved all the organisation's core objectives and targets in 2022, providing support and representation for the network of schools as Covid-19 restrictions were reduced and then removed.
By the end of 2022, there were 37,858 pupils accessing equality-based education in 117 Educate Together schools (96 primary and 21 second- level). This represents an increase of 2,431 students from 2021.
Sallynoggin Killiney Educate Together NS (SKY ETNS) joined Educate Together as a member school and as the 117th school in the network. The Educate Together national office has opened 52 schools over the past ten years.
Four new state-owned permanent school buildings were handed over to Educate Together in 2022, with Ballinteer ETNS, Cherrywood ETNS, Malahide Portmarnock ETSS and Pelletstown ETNS all moving into impressive new facilities during the year.
After extensive consultation, development and piloting, the revised Learn Together Ethical Education curriculum was completed and made available to every Educate Together primary school in September 2022. The revised curriculum was formally adopted by all members at today's AGM.
Educate Together's national fundraising day, One Day Together, was held on Friday 28th October 2022, and was a huge success. Schools around Ireland held celebration events to promote awareness of Educate Together's work and more than €10,000 was raised to support democratic and child-centred education.
Educate Together's 2022 annual report is now available to view online here.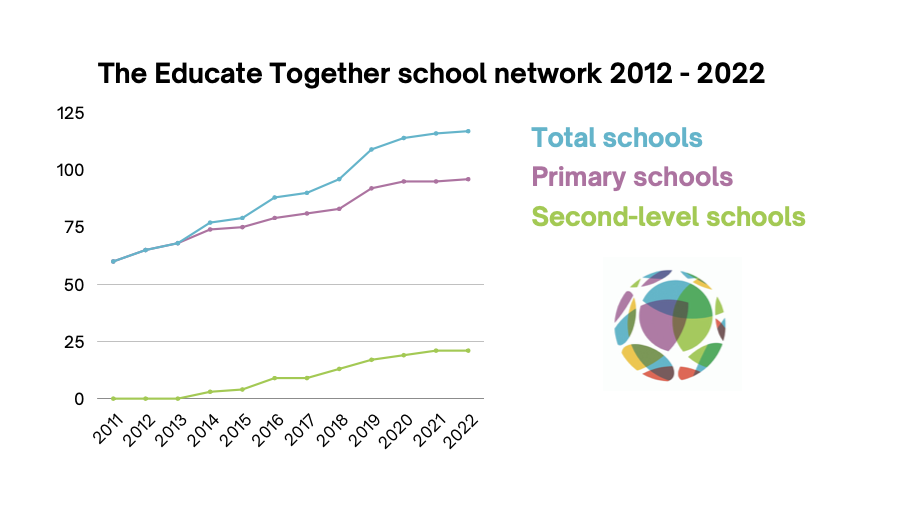 Commenting on the strides Educate Together made in 2022, Emer commended the volunteers who collectively bring alive the equality-based ethos throughout the school network:
"Educate Together school communities have proved again and again that voluntary initiative can be a powerful force for positive change in education. We have grown to become a thriving network of 117 schools with nearly 38,000 students as a direct result of that voluntary initiative, and a shared commitment to equality-based education."
Democracy in action 
Educate Together is a democratic organisation whose policy direction is set by its membership. Member schools propose and vote on motions and policies that shape the direction of the equality-based network for the coming year. This year's AGM, which was attended by representatives of Educate Together's primary and second-level schools, was marked by lively engagement, debate and decision-making.
Following workshops on current issues, delegates debated policy motions on a range of issues, including admissions policies, supports for students with additional needs, and ethos guidance on teaching about LGBTQ+ identities.
The AGM saw a number of changes to organisation's Board of Directors. Matt Wallen and Richard Woulfe were re-elected , and the board also welcomed new members John Collier (Cork ETSS) and Niamh Cullen (Grace Park ETNS). Colm Ó Cuanacháin, Aine Clancy, Aidan Clifford and Siobhan Mortell, whose terms were finishing, were thanked for their contribution on the board.
Senior cycle students from the network's Student Advisory Group reported to delegates and guests in the afternoon on their recent Green Gathering event. This event saw 170 students and 30 school staff representing 19 second-level schools meet to discuss climate justice and sustainability.
Urgent action needed on school choice in Ireland
CEO Emer Nowlan called for urgent action to ramp up the provision of Educate Together schools and expressed deep concern about the lack of progress at system level over the last decade, highlighting the growing demand from families for choice in the education system.
"Successive governments have let citizens down. Educate Together schools are thriving, wherever they have been allowed to open, and it is simply not fair that access to this popular option depends on where you live. It is time for a clear strategy and a concrete, funded plan, so that families seeking this option can make their preference known, and this ever-growing demand can be met."
Read more about Educate Together's calls for immediate and decisive action to meet the growing demand for equality-based education here.
Thanking volunteers and staff
A special event was held at the AGM to honour and mark the work of Jen Cummins, who stepped down as chairperson of the Educate Together Board of Directors after five years leading the organisation's board. Delegates at the event thanked Jen for her contribution as a highly skilled volunteer at school, patron and board level over the past 14 years. Jen steered the organisation through significant changes with the retirement of Educate Together's first CEO, and the financial restructuring of the organisation through Covid-19.
Delegates also marked the contribution of one of the national office's longest-standing team members; Gerry McKevitt, New Schools Officer retires this month. Gerry started as a staff member in the national office in 2007, having already being an active contributor to Educate Together's development, playing a central role in the campaign to set up Swords Educate Together NS and other campaigns from 1999. As both a volunteer and a staff member Gerry has played an active role in establishing more than thirty schools over nearly 25 years.
The AGM featured speeches and presentations to show the Educate Together movement's deep appreciation for both Jen and Gerry's incredible work.