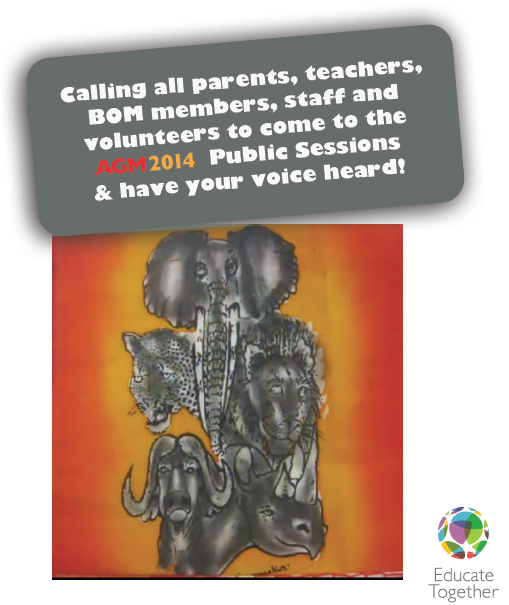 Educate Togther's 16th Annual General Meeting will be held in Balbriggan Educate Together National School.
The AGM is an opportunity for members to shape the policies of Educate Together for the coming year. Policy motions direct the organisation in its dealings with partners in education, including the Department of Education and Science. They are also a way of ensuring that members' concerns inform decision making by the Board of Directors.
The Minister for Education and Skills, Ruairi Quinn TD, will speak at the event. Educate Together's CEO, Paul Rowe, will make an address entitled "A vision for the future of education in Ireland and its place in the world."
RSVP info: AGM@EducateTogether.ie / (01) 429 2500 by 12 noon on 21st May 2014
RSVPs are essentially required:
(a) to organise catering for a sufficient number of people
(b) to identify a quorum at the earliest possible opportunity
(a) to ensure sufficient crèche child care places are available
Créche places:
There will be a limited number of crèche places available at the AGM for children aged between 3 and 10 years. If any member of your delegation wishes to avail of this service, please contact the national office on (01) 429 2500 or by email: agm@educatetogether.ie as soon as possible as places will be offered on a 'first come, first served' basis and will only be available to those who have booked in advance.
Parking:
Parking is available on the school grounds and the surrounding area.
Queries:
Should you have any queries in relation to the AGM, please contact the National Office on (01) 429 2500 or by email: agm@educatetogether.ie