By Susana Núñez, Second Level Education Officer  
Last November Educate Together marked a significant milestone in its history as innovators in the field of education in Ireland with the launch of its Senior Cycle Ethical Education curriculum. To mark this important milestone, we invited Professor Aislinn O'Donnell (Maynooth NUI) and Mr Fergus Finlay to address social and philosophical matters arising from the curriculum, and were joined by school leaders, board members and many supporters from the education sector.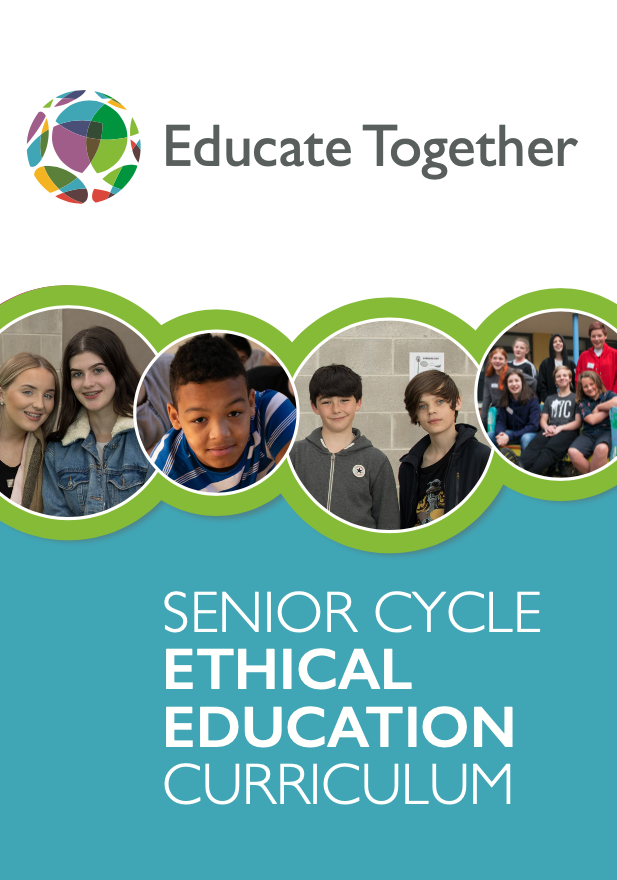 First of its kind in Ireland, the curriculum and its accompanying teacher guide have been developed by and for Ethical Education teachers. This reflects the grassroots principle which has characterised Educate Together's approach to Ethical Education from the outset – innovative curricula developed mainly on the ground, in schools, by teachers, in collaboration with students and parents, while drawing on support from educators, thinkers, academics and others inside and outside our network. 
This may be a good time to allow nostalgia to bring us on a journey back to 2004 when Kathleen Lynch launched Educate Together's first documented Ethical Education curriculum: the Learn Together curriculum. During this joyous occasion, Professor Lynch celebrated the achievement as 'a most welcome development in a society where so much of the time, children are not educated to reflect on the meaning and purpose of life itself.'
Isn't it wonderful to think that not only have we continued to offer learning opportunities for this type of reflections for the last 17 years, but we can also now take pride in the fact that from this moment on Educate Together can offer innovative Ethical Education curricula from Junior Infants all the way to 6th Year. Back in 2004 when Learn Together was launched, there were just under 5,000 pupils in 31 Educate Together primary schools in Ireland. Fast forward to today when, this year alone, 34,000 students will engage in Ethical Education at primary and second level in 116 Educate Together schools around the country. 
We may also use the occasion that this milestone offers us for reflection: how is it that Ethical Education continues to be such a key component of the Educate Together model of education 17 years later? One may say that finding time in our busy school timetables for this subject is in fact even more pertinent nearly two decades later, when we consider the many changes that have taken place since we launched our first Ethical Education curriculum. Changes at many levels: social, political, economic, scientific, health etc.; not to mention the impact that globalisation and the increasingly hyperconnected world we live in has had and continues to have on students' lives. So much has happened that students have to make sense of!  
The strands in the senior cycle curriculum were specifically chosen to empower students to participate in dialogue and ethical decision making on important concepts and values in today's complex world, allowing the space and opportunity to think more deeply about the questions they have in life and to keep connected with the world outside of themselves, whilst "not losing oneself" as Prof O'Donnell very well put it at the launch.   
It builds upon the Ethical Education curriculum at Junior Cycle and Learn Together Curriculum at primary level. It acknowledges students' growing and developing perspectives of the evolving world around them while grounding their learning in their previous experience.   
As with previous curricula, senior cycle Ethical Education has been designed with other subjects in mind to allow for cross curricular connections. It also supports wellbeing with its focus on the development of self-awareness through reflection on values, attitudes, thoughts and feelings. Finally, it reinforces the development of social and emotional skills and values like respect, perspective taking, empathy and resilience. All of it key to building a sense of self, healthy relationships and contributing positively to society.  
The launch of the Senior Cycle Ethical Education curriculum marks the culmination of a process which can only be described as a labour of love, with countless contributors and supporters over many years. 
The Curriculum specification document and digital version of the accompanying teacher's guide can be found on the resource bank of our website.
So exciting to hold an actual copy of @EducateTogether new #SeniorCycle #EthicalEducation Curriculum which is landing in schools this week. Thanks to #SlickFishDesign, @WorldWise_Irl and @SalesforceOrg for helping us to get here! pic.twitter.com/WfQjWhbBMF

— Sandra Irwin-Gowran (@IrwinGowran) December 17, 2021