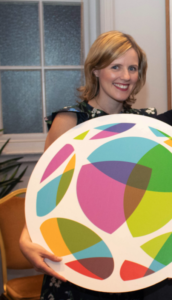 Dr. Laura Dooley, former Educate Together Second-level Education Officer  
Have you ever noticed how many acronyms there are in education?  
We love a good acronym in the education sector. As well as saving you the extra 30 seconds of saying out the actual words, these acronyms work really well as a shorthand to help you identify any outsiders or interlopers that you might find yourself standing or sitting next to through no fault of your own at a conference or seminar or course (remember when those were a thing?). 
You know, those strange beings that work in the space outside the education sector. (I know, perish the thought!) All you have to do is drop in an acronym or two to a conversation and they'll give themselves away by the confused frown that will form on their face as they struggle to comprehend the seemingly endless stream of words and unassociated letters eg.  
"Were you at the NAPD thing a couple of weeks ago where TUI and ASTI responded to the proposal by the NCCA? I'd say the PDST are delighted but it'll be interesting to see what the DES do now."  
For those of us on the inside, this sentence has intelligible meaning. For anyone else, it can be an unfathomable mishmash of words and letters.  
I can empathise with our fictional outsider because I remember feeling something close to bafflement when I first started with Educate Together national office five years ago. The week I started also happened to be the week of the first ever Educate Together Ethical Education Conference. There was great excitement and obviously, quite a few meetings to get ready for it. At one of these meetings in particular, I remember the guest list was being discussed...at least, that's what I figured out after a while.   
As names and letters were being thrown out to my left and right (JMB, ACCS, ETB, INTO…) I remember thinking first, "They have their own language here? That's a bit extreme!" followed by "I wonder if there's a handbook I didn't read or a part of the induction I missed? How could anyone manage to keep track of all these different letters and their meanings? Was I meant to know all these already? Would it be worse if I said I didn't know or should I nod along and hope to figure it all out later?"  
I wasn't expecting to be quite so lost. I was after all, a teacher and had been teaching and conducting research in the second-level sector for several years. Luckily, that lost feeling didn't last too long. That first Ethical Education conference was a great introduction to the Educate Together network. I got to meet lots of Educate Together teachers and principals who were so friendly and welcoming.   
That experience of friendliness and feeling of welcome was repeated at every other Educate Together event I had the pleasure of attending over the next five years, whether it was one of the next three Ethical Education Conferences, the Principals Conferences, one of the many CPD events or visiting schools. It's no surprise that meeting with Educate Together teachers, school leaders and students quickly became one of my favourite parts of the job.  
Another part of my role that I thoroughly enjoyed was developing the second-level Ethical Education Curriculums. When I started in 2015, the first Educate Together second-level schools were just developing and with only four in existence and all in their first year or two, it was a very different picture than the network of 19 second-level schools that there are now. The Ethical Education Curriculum at second-level was only in its early stages too. My predecessor, Ann Ryan, had done great work developing a second-level resource bank and had created a draft curriculum. It was my responsibility, along with the working group, to finalise the curriculum and start providing CPD to teachers to help them teach it.  While at times it was a scramble to keep ahead of the students in the first Educate Together second-level schools in Kishoge, Ballymakenny and Hansfield, it was amazing to have the opportunity to develop an equality-based curriculum for students in this new school model. My PhD research had revealed that students didn't often experience intercultural education at second-level or have the opportunity to explore different perspectives and stories and issues like immigration. In particular, my research found that students from migrant backgrounds often felt that they weren't represented in the curriculum or the texts they were studying. Developing the Ethical Education Curriculum provided a unique opportunity to help fill this gap and ensure that all students felt included.   
Working in this role has been very rewarding and enjoyable. Along with having the privilege of working with so many motivated, dedicated and inspirational people within the Educate Together network, it has also provided the opportunity to work with many external educational partners and stakeholders. The Erasmus project that resulted in, among other things, the creation of the online course for teachers of Ethical Education facilitated us to work with European partners in Slovenia, Italy and Croatia. Closer to home, the support and funding from WorldWise Global Schools has been invaluable in ensuring Ethical Education teachers have had excellent opportunities to engage in Global Citizenship Education CPD with wonderful facilitators and has helped to strengthen the Educate Together values of equality and justice across all the second-level schools.   
The relationship with Salesforce has also made countless CPD opportunities for teachers and school leaders, including the first ever summer school for teachers in Ireland, possible. The recently published ESRI research on the experiences of students in Educate Together second-level schools, which also resulted from this funding, has made a valuable contribution and provided evidence that the Educate Together ethos and values are being lived out in practice in Educate Together schools. I know that the current Salesforce funded project on Trauma Informed approaches to teaching and learning will be equally beneficial and add to the resources available to Educate Together teachers and school leaders.   
As this lengthy piece indicates, it's been difficult to look back on the last five years and sum up succinctly all of the brilliant experiences associated with working as Educate Together Second-level Education Officer. Thinking in numbers, there's been:  
5 years

 

4 Ethical Education Conferences

 

3 Ethical Education Curriculums at second-level (Junior Cycle, TY and Senior Cycle)

 

2

CEOs

! (Thank you

Emer

and Paul for

allowing me to work in this role) 

 

1 Ethical Education Summer School

 

 
But that doesn't even begin to cover it. I am very grateful to have so many good memories and experiences that it's not possible to share them all here so,   
THANK YOU!  
As I move sector to become one of those strange individuals outside education I hope I don't lose the skill of conversing mainly using letters of the alphabet. Although I suppose it won't really matter, I know I won't really be an outsider because I'll always feel welcome in the Educate Together network.   
TTYL*,  
Laura   
*Talk to you later