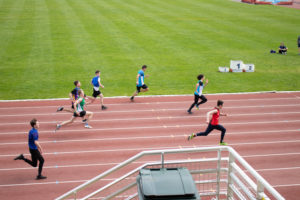 On Friday May 13th, 2022, the first ever athletics competition for Educate Together second-level schools took place. The competition was held in Morton Stadium in Santry on a bright sunny day, with perfect conditions for all track and field events.
The Sports Day event was a huge success that was enjoyed by all students and teachers in a friendly and fun atmosphere. The successful event was organised by teachers and volunteers from Belmayne Educate Together Secondary School and Blackrock Educate Together Secondary School with great support from many other schools.
In total, eighteen schools participated in the Sports Day event, with hundreds of students travelling from all over the country including Dublin, Wicklow, Kildare, Louth, Galway, Limerick and Cork.
Prizes were presented by CEO of Educate Together, EmerNowlan, who congratulated all students who took part in the Sports Day and all those who placed in their events, as well as thanking the organisers. The overall award for the school that won the most medals went to Celbridge Community School.