The Educate Together Ethos Quality Framework is now available to all Educate Together schools on our comprehensive ethos guidance platform. If you have not accessed it yet, please login and create your own user account. All you need is an email and your school roll number (a step-by-step guide is provided below). 
The Ethos Quality Framework sits within the site. The framework was developed over a two-year period by DCU who were contracted by Educate Together. The DCU Centre for Evaluation, Quality and Inspections (EQI), led by Dr. Shivaun O'Brien led the project which involved two phases. In the first year she engaged in extensive consultation with Educate Together stakeholders to develop ethos standards and statements of effective practice, based on the Educate Together Charter. In the second phase, Dr O' Brien supported 20 Educate Together primary and post-primary schools to evaluate an aspect of their ethos through the ethos school self-evaluation framework and process. Detailed ethos SSE guidelines and tools were developed specifically for Educate Together schools to support them in this work. These are now available to all Educate Together schools on the ethos platform.  
Last October, EQI held an online event in conjunction with Educate Together to celebrate the development of this important milestone. A short video was created to explain the process and the pilot – click on the link above and hear directly staff from Educate Together schools speak of their experience of working through the framework. The video features: 
Sinead McDermott, Donabate Portrane ETNS

 

Ruth Donald, North Dublin School Project

 

Yvonne Comaskey, Grace Park ETNS

 

Mick Heffernan, Harold's Cross ETSS (then North Wicklow ETSS)

 

Paula Murphy, Esker ETNS

 

Along with staff from the national office and EQI

 
Members of the Educate Together network voted to adopt the Ethos Quality Framework as policy for the organisation at the 2021 AGM.  
Emer Nowlan, CEO of Educate Together speaking about the framework stated, "the Ethos Standards and Statements of Effective Practice serve as an important counterbalance to the trend of measuring success in education in very narrow terms such as narrow academic outcomes, including the results of exams and standardised tests. The standards and statements help to defend every aspect of a holistic education, such as wellbeing and relationships. I hope the framework will give school leaders and staff in schools and school communities, a structure which will help them in their work to keep the focus on the students and on our shared commitment to ensuring no child is an outsider." 
The Quality Framework consists of:
Educate Together Ethos Standards and Statements of Effective Practice

 
Comprehensive ethos guidance on the Educate Together Charter 

 
A comprehensive Ethos SSE Guide

 
Template Surveys and other tools

 
Step by Step Guide to Access the Ethos Guidance Platform: 
You will need an email address and your school roll number.  
Step 1: Go to https://ethos.educatetogether.ie/  
Step 2: Select 'Register' to register for an account using your email address and role number.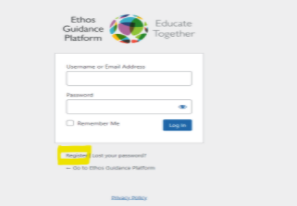 Step 3: Enter your details and log in.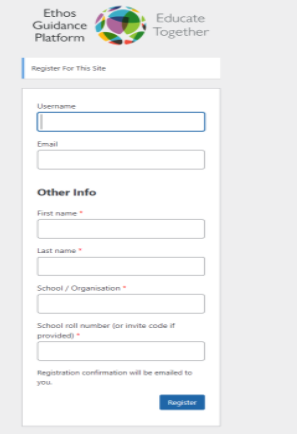 Congratulations, you can now access the Ethos Guidance website!