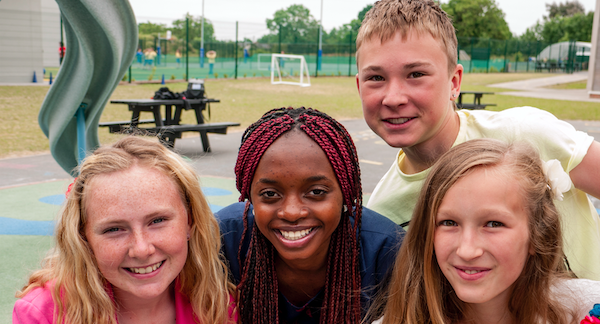 Educate Together and City of Dublin Education & Training Board (CDETB) are working together in partnership on the transition of two existing Dublin City schools – Saint Kevin's College, Crumlin and Cabra Community College to become CDETB/Educate Together second-level schools from September 2020. 
Saint Kevin's College will reopen in September as Clogher Road Community College. 

Partnership – Recognising the strengths and challenges of both organisations, the aim is to ensure the provision of the highest quality, co-educational and equality based educational experience for students that is built on the principles of community, inclusion and democracy
Vision – The vision for both schools on completion of the process is of  welcoming and vibrant school communities in which all members will experience a real sense of active participation and belonging.
Both schools will develop to be 1,000 pupil schools by 2025.
Read more about the transition of Clogher Road Community College and Cabra Community Community College here

Applications for 2020 for both schools are now open
Cabra Community College and Clogher Road Community College are currently enrolling for this September's intake of First Years and for other years
Clogher Road Community College: Enrolment is open for admission to first year September  2020 until Friday 21st February 2020. Application forms are available on www.stkevinscollege.ie or through the school office  . Expressions of interest for September 2021 and September 2022 enrolment are also being accepted. Please email your details to info@stkevins.cdetb.ie
Cabra Community College: Enrolment is open for admission to first year September 2020 until Friday 21st February 2020. Application forms are available on www.cabracc.ie or through the school office (01 8389577).   Expressions of interest for September 2021 and September 2022 enrolment are also being accepted. Please email your details to info@cabracc.cdetb.ie