Old McDonald had a farm! …… Baa Baa black sheep have you any wool?…… The Agri Aware Mobile Farm Visits Thornleigh Educate Together!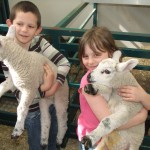 On Thursday the 29th of March 2012, the Agri Aware Mobile Farm visited Thornleigh Educate Together, Applewood in Swords, Co. Dublin. All the children, parents and teachers had to do a 'double take' on entering the school as they were greeted bright and early by Orla and her Mobile Farm, which housed a calf, a piglet, a donkey, a goat, a hen, a sheep with her two newborn lambs and a rooster who alerted the whole neighbourhood in Applewood of their arrival….'cock-a-doodle-doo'!
The mobile farm visit to Thornleigh Educate Together was an exciting and educational experience for students and teachers alike. Children from JuniorInfants up to 3rd class were introduced to the animals by the enthusiastic Orla. It was a fun, exciting and innovative way to introduce the pupils to a range of farm animals in a safe educational environment. Pupils got the opportunity to learn about the animals while also getting an opportunity to see, handle and feed them. We learned some very interesting information like how hens ingest stones to aid digestion in the absence of teeth!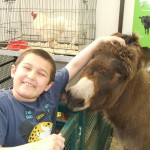 Each of the animals had fantastic names such as Gerry the calf, Billy the goat and Henrietta the hen! Miss Aoife's 1st class got the wonderful task of naming the two newborn lambs. After much deliberation they were named Rosie and Max!
Every child and teacher thoroughly enjoyed the visit from the Mobile Farm, which complemented the Springtime SESE curriculum perfectly. We would like to thank Orla for her expertise and the animals for being so much fun! We look forward to welcoming her again in the future!
Miss Aoife Lynam, 1st class teacher, Thornleigh Educate TogetherOrla –
Leinster Mobile Farm – www.agriaware.ie