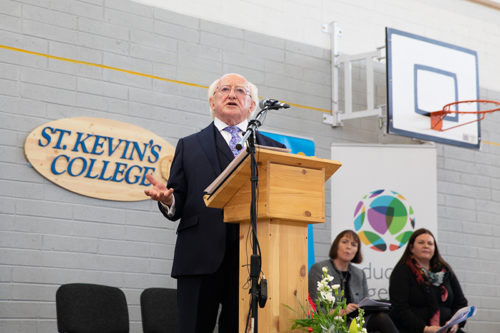 President Michael D Higgins has this morning honoured legendary 'Thin Lizzy' frontman Phil Lynott at an event in his former school, St. Kevin's College in Crumlin, Dublin. The President unveiled a commemorative coin issued by the Central Bank to mark seventy years since the singer's birth. With just 3,000 minted, these limited edition coins will be rare. 
The President, as well as members of Phil Lynott's family and invited guests, were treated to a performance of a medley of popular Phil Lynott and Thin Lizzy songs by the St. Kevin's College Brass Band. City of Dublin Education and Training Board (CDETB) was joined at this event by representatives of Educate Together, as the two bodies have entered into an agreement whereby, in 2020, Educate Together will become joint partner with CDETB in the running of St. Kevin's College.

Taking inspiration from the school's own rich artistic and musical heritage, St Kevin's College has introduced music onto the Leaving Certificate timetable for the first time this year. A designated DEIS school (Delivering Equality of Opportunity in Schools), St Kevin's College hopes to further expand access to artistic, creative and humanities-based Leaving Certificate offerings for students in the near future.

Commenting on this, school Principal Lesley Byrne:

'The celebration of Phil Lynott's success is very significant to us as a school. It re-enforces the vision we have for our students, ensuring the arts are accessible to all and encouraging them to build their cultural and educational capital. It is very fitting that this also marks the year that we have put music on the timetable and we are re-naming the library as the Lynott Library as it is the hub or creativity and culture in the school.'

It was recently announced that CDETB and Educate Together have agreed to work together as Patron Partners for Saint Kevin's College.

Recognising the strengths and challenges of both organisations, the aim is to ensure the provision of the highest quality, co-educational and equality based educational experience for students. This experience will be built on the principles of equality, community, inclusion and democracy. The school is currently enrolling for 2020, interested parents / guardians can contact info@stkevins.cdetb.ie
President Michael D Higgins and his wife Sabina Higgins are both long term supporters of the Educate Together movement. Both were founding members, as well as active Board members, of the Galway School Project (now Galway Educate Together NS), one of Ireland's first equality-based schools.