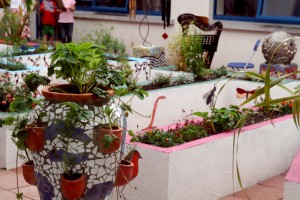 Castleknock Educate Together today welcomed Cllr Ciaran Byrne, Mayor of Fingal, to officiate at the opening of the school's new Sensory Garden. The Sensory Garden was designed and created as part of 10-year anniversary celebrations at the school.
Containing five raised flowerbeds, several interactive works of art and five sensory installations with mosaic design throughout, the Sensory Garden was developed as a collaborative project involving students, teachers, local artists, builders and other members of the local community. Designed as a restful area at the centre of the school building, the Sensory Garden will function as an educational tool for mainstream and special needs students as well as adding to the school's atmosphere and environment.
Principal of Castleknock Educate Together Aedin Ni Thuathail said 'We are delighted to welcome Ciaran Byrne here to open our Sensory Garden after a year of hard work and dedication by all involved. This garden will appeal to the sensory needs of every child in our school, as well as being enjoyed by every other partner in our school community.
Castleknock Educate Together National School first opened its doors in September 1999. As the 10th anniversary of the founding of the school, the past academic year has seen staff, students and parents celebrate one major event each month, each tying in with an element of the Educate Together curriculum and ethos. Art, dance, drama, Gaeilge, multicultural and musicals event involved all elements of the school community including students, both past and present, parents and members of the local community. Educate Together schools are multi-denominational and place a strong emphasis on learning through equality of esteem.