From Lynda in Donabate Portrane ETNS: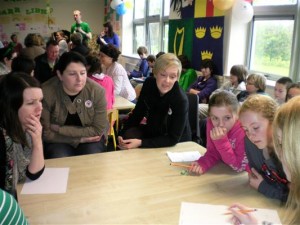 We had a busy day in Donabate Portrane ETNS yesterday with the Gaeilge team and PTA hosting a Tráth na gCeist (table quiz) for parents as part of our Seachtain na Gaeilge celebrations. We had a fantastic response from parents as always with our school community. The parents were assisted by Colm's Rang a Sé who wereon hand to help out with the language; with a broad range of questions (including a music round which included everything from Frank Sinatra to Florence and The Machine visiting Thin Lizzy and The Boomtown Rats along the way) there was real team work going on with the students understanding the questions and the parents knowing the answers! it became quite competitive with recounts demanded and a fiercely fought last round! A great day was had by all. Parents were not only impressed with the children's knowledge of Irish but surprised at how much they themselves knew.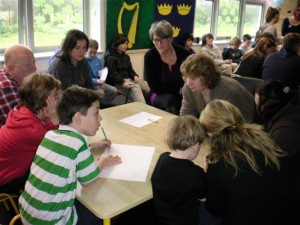 We are very proud with our level of Irish here in Donabate – the village has earned it's way to the final two from 140 inTG4's gteam competition. Over the past 10 months there has been a huge effort locally to promote the use of Irish in the community. We now have signs as Gaeilge in all the local shops and not only children but parents of all nationalities have embraced a cúpla focáil.
Go raibh maith agat.
Lynda, Donabate Portrane ETNS