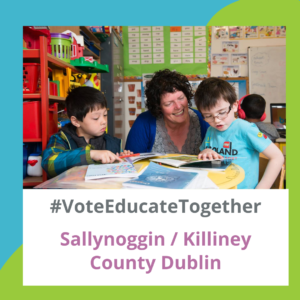 Educate Together is today announcing its intention to apply for patronage of the new primary school to open in the Sallynoggin / Killiney / Dún Laoghaire area of Dublin in 2021.
Patronage of the new school will be decided via an online vote gathering system run by the Department of Education. Commenting on the campaign, Dr. Emer Nowlan, CEO of Educate Together said:
"Demand for Educate Together's model of education in Dublin continues to grow. This is based largely on satisfaction of parents and children in our existing schools and on the fact that our model offers a level of inclusivity and innovation that is unparalleled in the Irish education system. Educate Together schools in surrounding areas are heavily oversubscribed so we're hoping that we will secure the support we need to provide this popular option for families in the Killiney / Sallynoggin area from 2021."
Educate Together has over 40 years of experience of providing a unique, inclusive and equality-based primary school model. In addition, Educate Together has considerable experience of establishing new schools, having opened 27 new primary and 19 new second-level schools over the past seven years.
Educate Together will work together with local advocates to encourage families that want an Educate Together school in their community to #VoteEducateTogether. The campaign has already garnered growing support in the Sallynoggin / Killiney / Dún Laoghaire area and supporters are anticipating a short but intense campaign.
Says Abigail Ruth Freeman, a parent and campaigner for an Educate Together school:
"It's important to my family that Educate Together are awarded this school. The ethos of Educate Together schools most closely aligns with our family values of inclusion and diversity and I'd like to see an equality-based school that reflects the community I see around me and treats all children the same. It is so important that parents in the community go to the Department website to vote Educate Together. I'm really looking forward to working towards bringing an Educate Together primary school to my community."

The Educate Together model is founded on a legal commitment to parents, staff and children to run schools based on equality and respect. Our schools are vibrant, welcoming communities, which strive to ensure every student feels a sense of belonging.
Visit our campaign page for more details and you can vote for Educate Together online here.