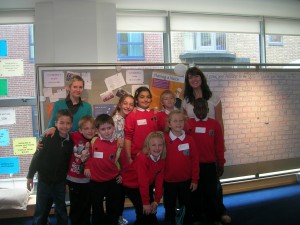 The entire family of Educate Together schools would like to express the deepest sympathy and condolence to the husband and family of Roisín Connolly and her unborn daughter Catherine who tragically lost their lives in a road accident in Monaghan on Monday night last.
Roisín was highly regarded and much loved in the Educate Together teaching community. She was a rising star who had enormous potential in her profession. She was an outgoing and vivacious person with wide professional experience at home and abroad. A brilliant teacher, colleague and friend in Balbriggan Educate Together National School, Roisín was also an activist for Educate Together's Learn Together curriculum. She played an important role as a cuiditheoir (trainer of teachers) for the Muralistas project in 2009. This was a joint project that engaged children from the Educate Together schools in Balbriggan, Bracken (Balbriggan), Rush/Lusk, Donabate and Le Chéile (Drogheda). It brought noted mural painters (Muralistas) from Nicaragua to work with the children of the schools to design and produce large public paintings around the themes of Equality and Justice. Roisín was a key member of this team. These paintings are displayed in the grounds of Ardgillan House in County Fingal.
Roisín's commitment and professionalism, her passion for the children in her care and her sense of fun and friendship will be greatly missed. We hope that all will rally around her husband Stephen, her family and the community and school of which she was such a special part.
May she and her baby Catherine rest in peace.
Paul Rowe
CEO, Educate Together
Fintan McCutcheon, Principal of Balbriggan ETNS, has put a tribute to Roisín on his blog page for the school. You can read his blog, and the comments of parents and colleagues, here.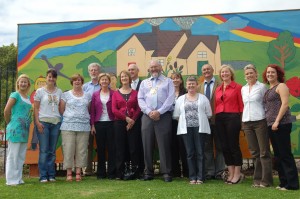 This is a photograph of official opening of the Muralistas Project. Roisín is second from the left.