This week will see the opening of new schools in Cork, Dublin, Mayo and Wicklow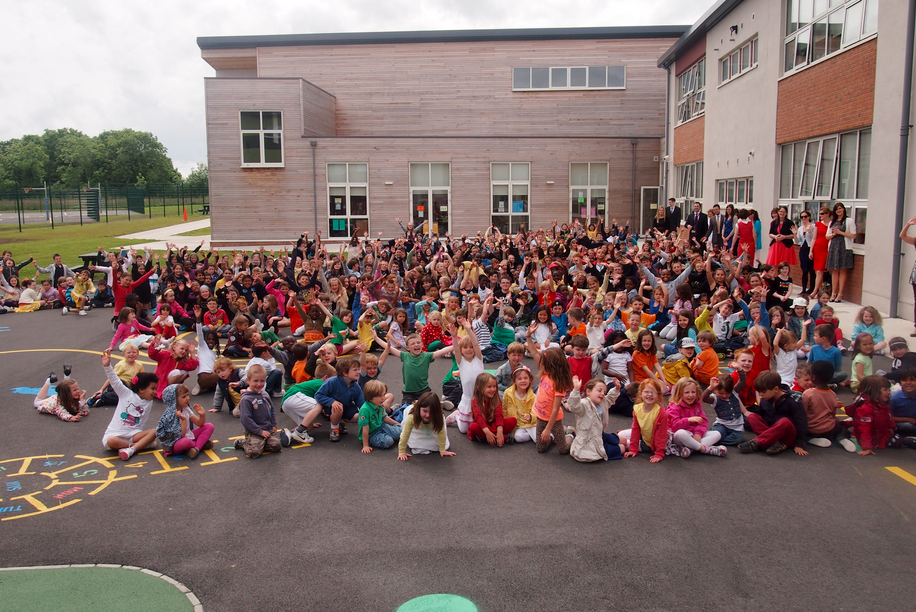 2016 is a historic year for Educate Together as it opens five brand new second-level schools: Bremore Educate Together Secondary School in Balbriggan; Clonturk Community College in Whitehall, Dublin (in partnership with City of Dublin ETB); Cork ETSS; North Wicklow ETSS and Stepaside ETSS. This is the highest number of second-level schools that Educate Together has opened in one year and is testament to the confidence placed in Educate Together by both the Department of Education and Skills (DES) and families.
Educate Together is also delighted that it will open four new national schools: Broombridge ETNS, Grace Park ETNS and Riverview ETNS in Dublin, and Castlebar ETNS in Co. Mayo. Broombridge ETNS and Grace Park ETNS will open in response to growing demographic demand for school places – patronage was granted to Educate Together by the DES as a result of overwhelming parental preference. Riverview ETNS and Castlebar ETNS open as part of the divestment process.
The opening of nine schools is the second highest number of schools opened in Educate Together's history: in 2008 Educate Together opened twelve national schools in response to ongoing demand for its model and demographic growth. The growing number reflects the desire and determination of families in these communities to establish schools where all children are equally respected regardless of social, religious or cultural background.
Divestment schools
The opening of Riverview ETNS and Castlebar ETNS serve as evidence that the divestment process can reap real rewards for communities in which the predominance of faith-based schools leave families with no choice in the kind of education they can have for their children. It is Educate Together's belief that the process can deliver this choice to the 18 remaining areas scheduled to receive Educate Together national schools. Says Nikki Murphy, member of the Riverview ETNS start-up group and mother of Reuben, one of the school's first Junior Infants:
"I feel very lucky that my son Reuben can attend an Educate Together school in the community. I've no doubt he will be happy and enjoy learning here. There is no doubt either that Riverview will be another hugely popular and over-subscribed Educate Together school in south Dublin. Hopefully there will be lots more to follow. Riverview ETNS is an example of how the determination of parents can pay off. But parents should not have to work this hard to access equality for their children. All children have a constitutional right to equal treatment in our education system."
Says Paul Rowe, CEO of Educate Together:
"The reputation of Educate Together's equality-based schools continues to grow, nurtured by the example set by existing schools, by the satisfaction of parents and children and by the very fact that Educate Together offers a level of inclusivity, openness and innovation that is unparalleled in the Irish education system."
Second-level schools
At second-level, Educate Together schools build upon the primary Learn Together curriculum with innovative methods of teaching. Using the unique Ethical Education curriculum, these second-level schools provide students with a grounding in morality and ethics that is all the more robust for being developed by the student themselves without institutional or religious influence. Subjects are taught through cross-curricular projects. Students are encouraged to challenge orthodoxies and think and learn constructively.
Says Abbie Deeney, Cork ETSS First Year student:
"I am really looking forward to going to this school as I get to carry on at an Educate Together school which I loved for primary. Also, we are going to be using lots of new and exciting ways of learning and our school books are on iPads which is really cool."
Paul Rowe again:
"Educate Together is fresh to Irish second-level education but is not just offering something that is a natural progression from its national school ethos. The Ethical Education curriculum has been developed on how we live as global citizens in the modern world; it investigates the challenges and possibilities of contemporary life in a way that is original and enterprising. The enthusiasm of teachers, parents and students has been astounding and Irish second-level education needs this energy if it is to offer students a path of learning and living that chimes with the modern world."