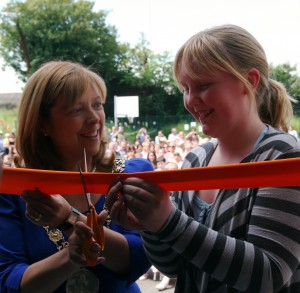 'I am tomorrow, or some future day, what I establish today. I am today what I established yesterday or some previous day.'
James Joyce
Today (June 16th), as Dublin celebrates Bloomsday, tucked away behind an historic stone arch, hundreds of children will be taking part in the official opening of the new Dublin 7 Educate Together School on Fitzwilliam Place North.
Lord Mayor of Dublin, Cllr Emer Costello joins the children, staff and parents to celebrate the occasion and formally cuts the ribbon at 12 noon. Emer actually took office on this day in 2009 and so Bloomsday is a significant anniversary for her as well.
Lord Mayor Cllr Emer Costello said I am delighted to help celebrate this wonderful day with Dublin 7 Educate Together National School. I am a member of the school board and know all the hard work and effort that has gone into making this day come to pass. I am especially pleased that I am celebrating one year as Lord Mayor with all the children, parents and staff of Dublin 7 Education Together. The opening of the school is also a significant milestone for the Grangegorman Development Agency (of which I am also a member). The site at Grangegorman has been earmarked for the unified DIT Campus at Grangegorman, new health care facilities for the HSE, a new public libarary, new arts, cultural and recreational and public spaces to serve the community and the City and a new Educate Together Primary School.
James Joyce would surely have approved this brand new Educate Together School building with its well stocked library and city centre location. In common with all other Educate Together schools Dublin 7 Educate Together is a multi denominational, co-educational, child centred and democratically run school. Founded by a group of parents, it first opened its doors in September 2000.
Initially located in a rented Georgian house in Henrietta Street, the school started out with 47 pupils and 3 teachers. Due to its expanding numbers it quickly outgrew this accommodation and moved in 2002 to temporary accommodation in St. Joseph's School for the Deaf on the Navan Road.
On September 24th 2009 the school moved to its current premises, a 16 classroom purpose built school on Fitzwilliam Place North.The school has now grown to almost 250 pupils and a staff of 23 and continues to grow. The proposed location of D7ET's permanent building remains a site on the new DIT campus as part of the Grangegorman redevelopment plan.
Today, not a million miles from the home of Molly and Leopold Bloom on the northside of the city, preparations under the arch are in full swing. The children are learning songs for the occasion, the parents and children have planted out the grounds so the school looks its best. The opening promises a glimpse at a new kind of school community located in the heart of Joyce's city on what is a very significant day.