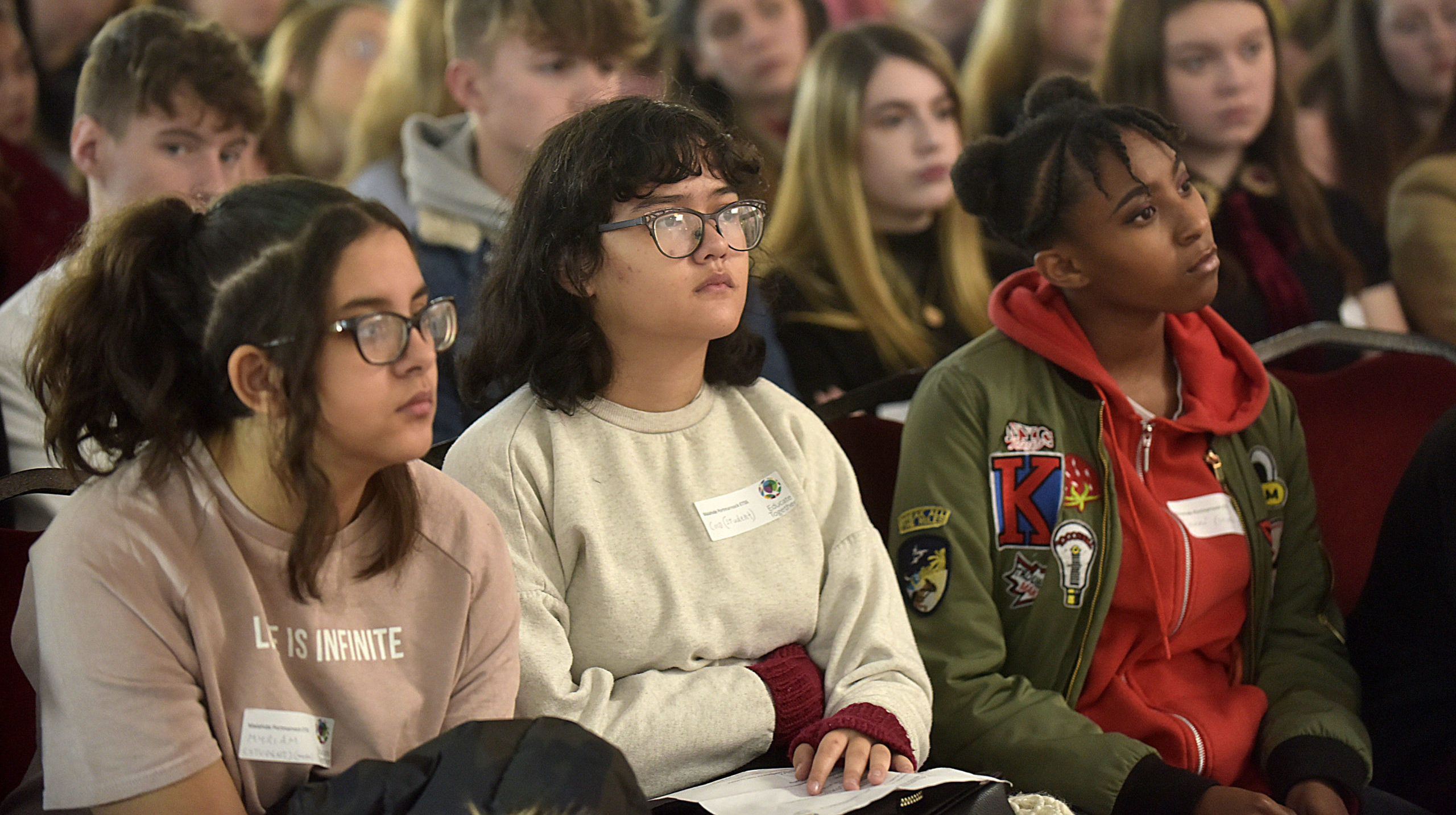 Inspiring Active Students 2019, a Global Citizenship Skills Development and Capacity Building event for the students and staff of Educate Together's nationwide network of second-level schools, took place on Tuesday 3 December at the Helix, Dublin. The day-long event, comprising of discussions, a StudentMEET and workshops, was designed specifically to enhance student and teachers' awareness of the impact of active global citizenship and to support the building of skills necessary for campaigning and taking meaningful action.
Attended by over 180 students and staff from 14 schools, the day began with a discussion with activist, Amal Azuddin, and her former teacher, Euan Girvan. Amal, a Somalian refugee living in Scotland, was one of the 'Glasgow Girls'—a group of seven teenagers who campaigned against dawn raids and the detention and deportation of asylum seekers in Glasgow in 2005. Both teachers and students had the opportunity to learn about the action undertaken by Amal and how Euan, as her teacher, supported her, as they recounted their experiences from the 'Glasgow Girls' campaign.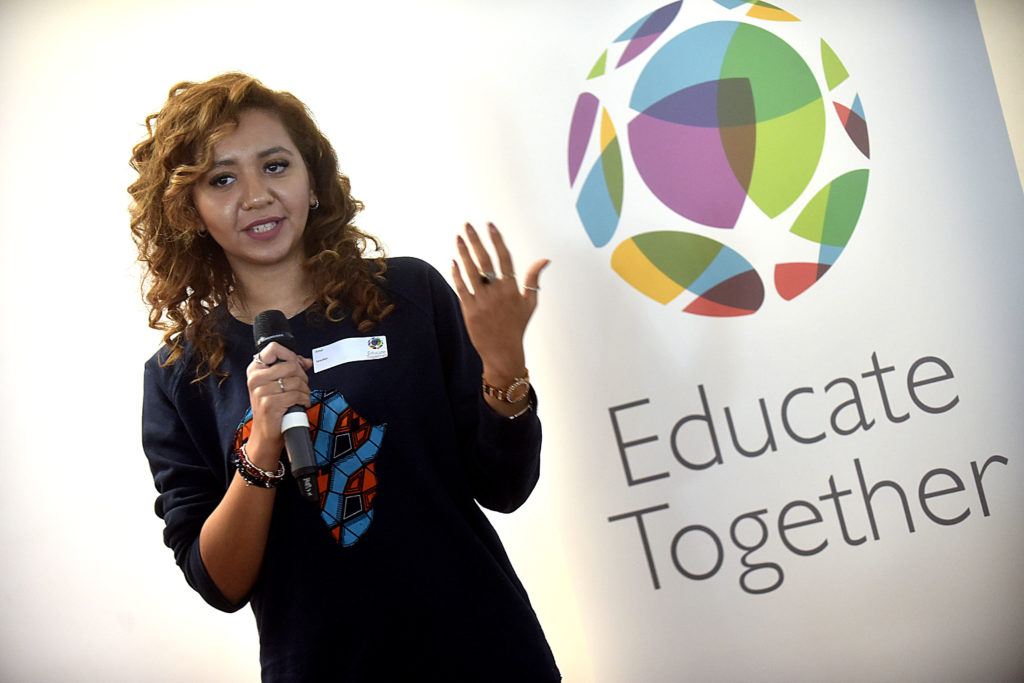 This was followed by a StudentMEET, during which students shared a selection of the projects and actions they have been involved in with their school communities. These included: a celebration of Black History month at Kishoge Community College; the design and production of a reusable water bottle at Sandymount Park ETSS; and the development of an anti-bullying website at the newly opened Dublin North East ETSS. Students from Stepaside ETSS and North Wicklow ETSS also delivered a presentation about their work mobilizing students as part of the Schools' Climate Action Network; while students from Cork ETSL spoke about their 'Changemakers' projects.
The remainder of the day consisted of a number of workshops designed to develop students' skills to plan and manage campaigns.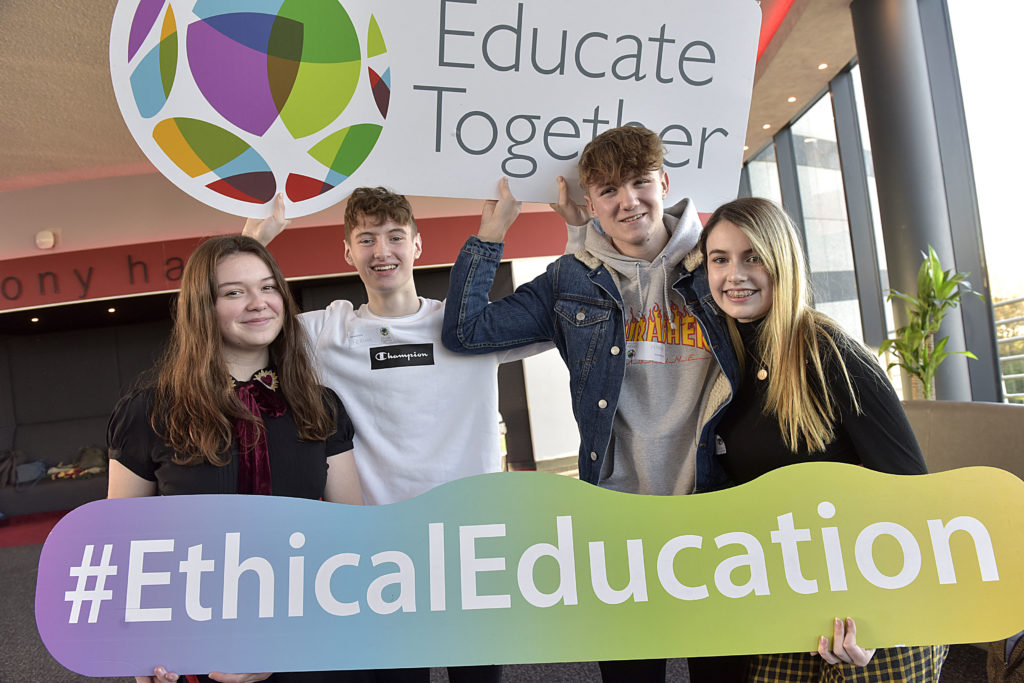 "Today has been very special" said one student as the day came to an end. "The way society is at the minute, there's so much to be concerned and angry about that it can be hard to see how you can make any difference. Hearing Amal speak today, hearing from my fellow students, taking part in the workshops… I feel I now know not only that I can make a difference but exactly how to start."
The Inspiring Active Students event was proudly supported by Educate Together, Worldwise Global Schools, Ireland's national Development Education programme for post-primary schools, and Salesforce.org.