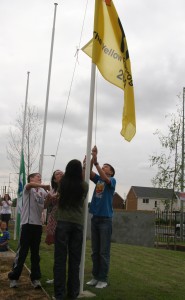 Castaheany Educate Together National School today (June 17) officially raised its recently awarded Yellow Flag for Interculturalism and a Green Environmental Awareness Flag. The ceremony took place at 10.30 in the school at Ongar Village, Dublin 15. Castaheany ETNS is the only school in Dublin 15 to be awarded both flags.
Principal Mary Healy expressed her pride at her schools achievement 'This is a great day for Castaheany ETNS. The children have worked so hard on our intercultural and environment projects and seeing the flags fly is a positive sign to everyone in our community of the great spirit and attitude in this school'
The Yellow Flag is an intercultural programme for primary and second level schools that was set up by the Irish Traveller Movement. Schools complete nine separate steps towards completion of the programme- at the end of which they are awarded with a Yellow Flag symbolising its commitment to being an actively intercultural school. Green-Schools is an international environmental education programme and award scheme that promotes and acknowledges long-term, whole-school action for the environment. It is a long-term programme that introduces participants to the concept of an environmental management system. Both programmes involve the partication of students, staff, management, parents and wider community groups so that the issues of diversity, equality and our environment are understood and taken outside the school setting into everyday life.
Castaheany Educate Together National School was established with three classrooms in Griffeen Valley ETNS Lucan in 2004. After three years in prefabricated buildings the school moved to its permanent building in Ongar Village in 2008. Educate Together schools are multi-denominational and co-educational. All schools place a strong emphasis on learning through equality of esteem.