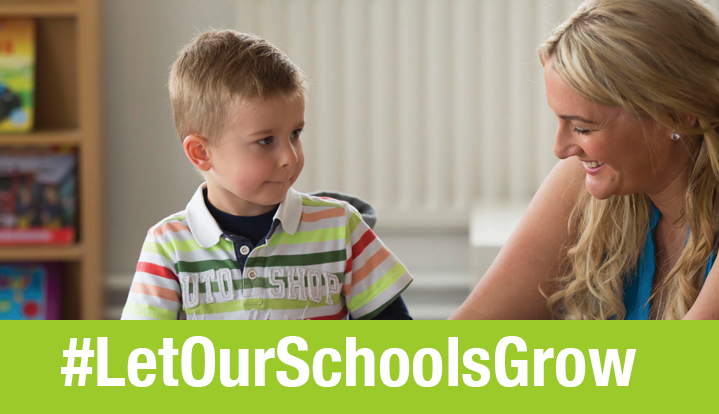 Large numbers of children and families are being prevented from attending Educate Together schools in counties Waterford, Wexford, Meath, Galway and Mayo in a Government u-turn
Tramore ETNS, New Ross ETNS, Trim ETNS, Tuam ETNS and Castlebar ETNS – thriving schools with growing waiting lists – are to be restricted to half-stream – meaning they can only enrol 13 Junior Infants per year. All five of these Educate Together schools have gone from strength to strength over the years, demonstrating demand from families far greater than 13 pupils per year.
Educate Together has been inundated by upset parents in recent days who are now unable to access their school of choice for their children, and the national office is doing all it can to convince the Department to reverse this decision. School Principals and Boards in all five areas are organising public meetings, reaching out to local politicians and taking their campaigns to the media and online using the hashtag #LetOurSchoolsGrow.
Please support our schools in Tramore, New Ross, Trim, Tuam and Castlebar. If you live in any of these areas, please contact your local TD or public representative via the buttons here. You can also contact the Minister via a button here.
All five schools opened under the Government 'divestment' scheme to provide more choice for families in a school system dominated by religious-run schools. Educate Together agreed to open these schools on the basis of their long-term viability as full-stream developing schools. Principals and Boards were appointed on the basis of the schools being allowed to develop and grow. Educate Together's records show that at no stage in the establishment of any of the schools did Educate Together agree that they would remain as half-stream schools.
For each school, the Department of Educations's own (publicly available) reports recommended "Taking account of likely long-term requirements, accommodation options for a full stream of provision should be considered." The reports are online here and here.
On being questioned this week in the Dáil, the Minister for Education and Skills stated: 'We are not in a financial position to build additional schools just because people do not want the schools that are already in place'.
Families in Tramore, New Ross, Trim, Tuam and Castlebar are not asking for additional schools. They are asking their schools to be allowed to grow and for suitable accommodation to be made available to allow that to happen. They are asking for the principle of 'parental choice' in education to be honoured by the Government.
This DES u-turn flies in the face of Government claims that the Irish education system supports 'parental choice' and shines a light on the State's commitment to increase the number of non-denominational and multi-denominational schools in Ireland to 400 by the year 2030.
Report on the surveys regarding parental preferences on primary school patronage (New Ross and Tuam) can be accessed here
Report on the pilot surveys regarding parental preferences on primary school patronage (Castlebar, Tramore and Trim) can be accessed here
If you are affected by this issue, please contact us at newschools@educatetogether.ie