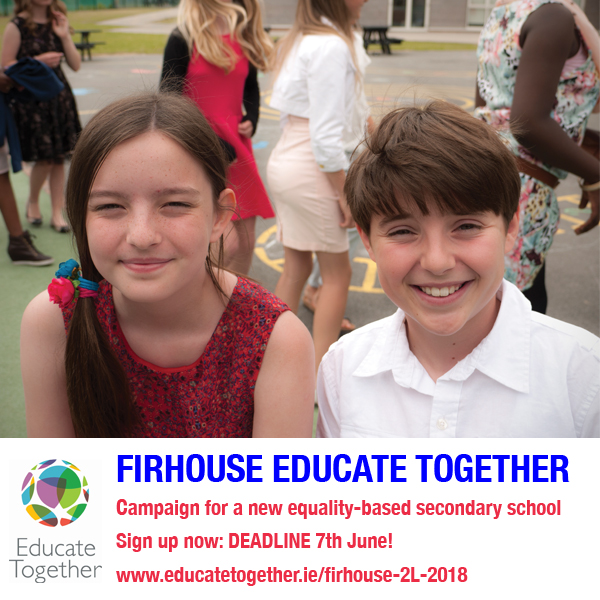 It was a packed house on Monday night (30 May) at Firhouse ETNS when parents gathered for a public meeting on Educate Together's application for patronage of a brand new school to be opened in Firhouse in 2018.
Educate Together is one of the patrons applying for the school in what's known as a 'process'. The Department of Education and Skills determine areas that show a demographic need for more school places. The DES then invites patrons to submit an application. As 'parental demand' is key when deciding which patron is successful, Educate Together is collecting 'Expressions of Interest' forms to prove that parents want an Educate Together school. In the case of Firhouse, the deadline for receipt of applications is Tuesday June 7. As Carly Bailey, a local parents says:
'There is a dire need for a new secondary school in the area and we are campaigning hard for it to be an Educate Together. The Educate Together national school in Firhouse has become a real asset to the community. We want our children to continue their education in a school that welcomes all regardless of religion or social or cultural background. I believe this is the reason that families should support this school no matter what school their children are in now. Educate Together will welcome them all with no restrictions. No student will be an outsider and that's particularly important in the teenage years.'
Educate Together recently won two processes for primary schools in Dublin City and is running further campaigns in Dublin and Limerick for second-level schools. The demand for the Educate Together model of education at national school level in Dublin is phenomenal. Jarlath Munnelly of Educate Together points out:
'The situation with the shortage of places at Educate Together primary schools is in one way due to the slow build of Educate Together's reputation over the last 38 years in very trying circumstances. However, we now know that parents want this option and if we want to avoid oversubscription at second-level Educate Together schools in the future, we need to build the infrastructure now.'
Note: the deadline to express your interest is TUESDAY 7th JUNE.
If you would like to help with the campaign, please contact newschools@educatetogether.ie.
You can find the Firhouse Educate Together Secondary School Campaign group on on Facebook.