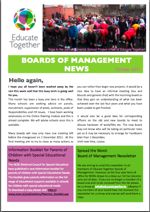 Hello All,
Welcome to the October edition of the Board of Management Newsletter. I hope you will find it useful this month. If you have any questions on any of the topics raised please don't hesitate to contact the ET office.
This newsletter was emailed to all Board members on our database before mid term. If you did not receive a copy please let us know.
Have a wonderful mid term break!
Download the Board of Management News here