The role of the Board of Directors is to shape the strategic direction of Educate Together in the long term, to guide and support management performance and to monitor progress towards agreed objectives. It is fundamentally a governance role and is at a remove from the day-to-day running of the organisation.
Directors are elected by members and these elected members may co-opt two more. The term of office for elected members is three years and there is a system or rotation whereby a number of directors come to the end of their term of office each year. The Chairperson of the Board is also elected for a three-year term. Persons co-opted to the Board of Directors are co-opted until the following AGM, and usually have specific skills (e.g. financial, marketing, legal, social science, human resources, development/fundraising, etc).
The Dublin-based national office is responsible for carrying out Educate Together's role as a patron and a management body.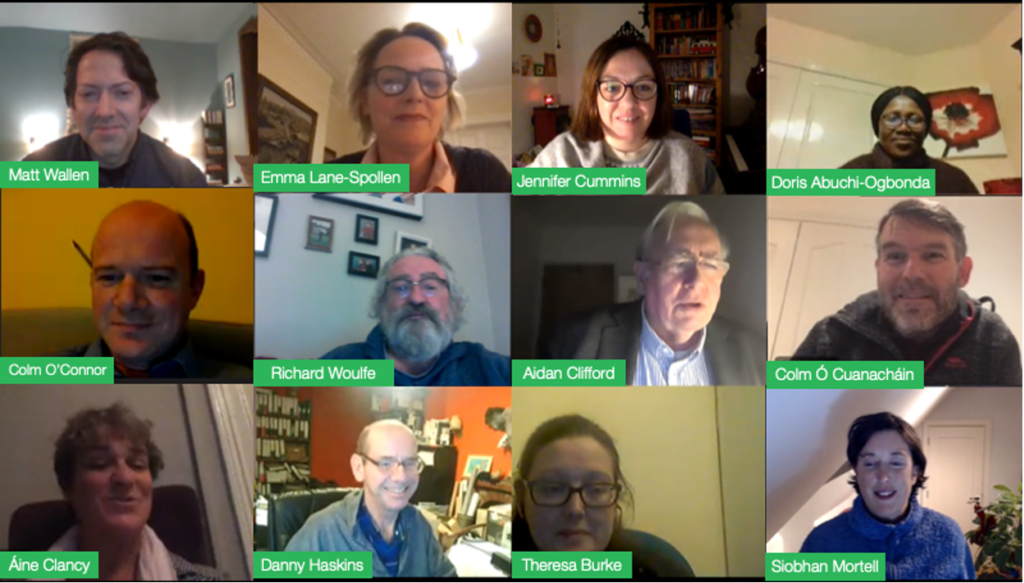 Jennifer Cummins
Chairperson of the Board
Jennifer Cummins has been a member of the Board of Directors since 2014. Jennifer was elected Vice Chairperson in 2015 and Chairperson in 2017. She currently works as the Co-ordinator of Ballymun Anseo School Completion Programme which aims to support children and young people at risk of early school leaving. Jennifer has served on several Boards nationally. She started her Doctoral research in Ethical Education in 2016.
Danny Haskins
Vice Chairperson of the Board
Since August 2019 Danny has been Chair of the new school ETSS Wicklow. Prior to that, he was on the board of Stepaside ETNS for 4 years and, as one of the founders of Wicklow ETNS, on their board for 8 years, including four as Chair. He is on the patronage, HR and international sub-committees. His day job is dairy farming.
Aidan Clifford
Aidan Clifford joined the Educate Together board in 2017 and sits on the education and governance sub-committees. He is also a board member of Encountering the Arts Ireland and A Partnership with Africa and a founding member of Irish Forum for Global Education and member of the Dublin City Council Culture Company Culture Advisory Panel. He represents the Department of Education and Skills (DES) on the Council of Europe Education Policy Advisors Network (EPAN) on competencies for a democratic culture and the Ethics, Transparency and Integrity in Education (ETINED) committee. He is a member of the DES committee on education for sustainable development (ESD), the DES science, technology engineering arts and maths (STEAM) committee and the DES Teacher Artist Partnership (TAP) design team under the Arts in Education Charter and Creative Ireland. Formerly director and now as associate represents the CDETB Curriculum Development Unit on the Irish Aid funded global citizenship/development education WorldWise Global Schools (WWGS) consortium.
Colm Ó Cuanacháin
Colm worked as a primary school teacher and as principal at Gaelscoil an Ghoirt Álainn Educate Together in Cork for five years. He has a PhD in human rights education and initiated the establishment of the Irish Centre for Citizenship and Human Rights Education in St Patrick's College, DCU. Colm worked in human rights and development for almost twenty years. He was director of Comhlámh, the Irish Association for Returned Development Workers, and also served as Secretary General of Amnesty International in Dublin. Colm has wide experience in organisational development and governance, having served on a range of boards at international and national level. 
Siobhan Mortell
Siobhan has many years of experience teaching German at University College Cork. She is passionate about education in general as well as language teaching & learning. Having seen first-hand over many years the type of learner that is created by the current manner of teaching, learning and examining at secondary level in Ireland, she is delighted to channel her creative energy and practical experience to contribute to changing this for the better.  She joined the Educate Together Board of Directors in 2017.
Colm O'Connor
Colm was elected to the Board of Directors of Educate Together in April 2019. He sits on the Board's Education subcommittee and Chairs the ETB Partnership Working Group. In 2015, Colm was appointed as founding principal of Cork ETSS, the first Educate Together second-level school in Cork. In 2018, he addressed the Human Rights Dimension Committee, of the OCSE in Vienna, on inclusive education. From 2011 to 2015, Colm taught in the European school system and was involved in the development of the fourth European School in Brussels. From 2001 to 2011, Colm was a History and Geography teacher in Coláiste Chríost Rí. Whilst there, he was on the Board of Management for five years.
Emma Lane-Spollen
Emma Lane-Spollen joined the Board of Educate Together in April 2019. She became Treasurer in 2020 and chairs the finance sub-committee of the Board. Emma's youngest is in Ranelagh Multi-Denominational School, previously all three children went to Midleton ETNS (Cork) for three years. Emma is an independent consultant and has extensive experience in strategy, advocacy, organisational development, planning and finance. Prior roles include CEO of the Tomar Trust and Deputy CEO of the One Foundation. Emma is a qualified management accountant and has extensive Board experience, currently also serving on the Board of Benefacts.
Áine Clancy
Áine joined the Educate Together Board 2020. She has also taken up a role on the Educational Training Board partnership sub-committee of the Board, having been a member of the City of Dublin Educational Training Board for several years. Áine has extensive experience within the Educate Together network. She served on the inaugural board of Clonturk College, was chairperson of Cabra Community College and is currently on the board of Glasnevin ETNS. Áine has been an elected representative on Dublin City Council and is currently a director on the North West Area Partnership.
Richard Woulfe
A practicing solicitor until he retired in 2019, Dick set up a focused employment law department in his former firm which he lead for ten years and which became one of the two largest employment law teams in the country. For nearly ten years prior to retirement he headed up a team focused on intellectual property and social media litigation. Dick was for many years on the Board of Management of Griffith Barracks Educate Together National School. He joined the Educate Together Board as co-optee in 2017 and again in 2019. He was elected as director at the 2020 AGM and is also now the company secretary. Dick is chair of the Board's International Development Sub-committee.
Doris Abuchi-Ogbonda
Doris was an inaugural board member of Esker Educate Together National School, Lucan as parents' representative until 2011. She is on the board of St. Andrew's National School, Lucan as a community representative from 2015 to date; and a director on the board of The Rights Platform since 2014. She has cross sectoral experiences in Legal practice; Community Development and Youth work. She also worked in child protection. Culturally versatile, Doris coordinates the Migrant Access Programme-MAP. MAP provides support for the inclusion of, and access to the labour market by migrants.
Theresa Burke
Theresa became a director of Educate Together in November 2020, after joining the board's Finance Sub-committee in March of that year. Head of Governance and Finance with the Children Rights Alliance since 2018, Theresa qualified with the Association of Chartered Certified Accountants (ACCA) in 2005, becoming a fellow in 2010. She has worked as audit manager in accountancy practice, gaining extensive experience across many areas in the public and private sector dealing with small, medium and large organisations. Theresa also brings significant experience in the charity sector to the role, with up to date knowledge of the Charities Governance Code, and charity financial reporting requirements including Financial Reporting Standard 102 Statement of Recommended Practice (SORP).
Matt Wallen
Originally from Colorado, Matt graduated from St Olaf College in Minnesota with a degree in Fine Arts and Elementary Education.  He taught in elementary and middle schools for 5 years before relocating to Ireland in 2002.  He completed an MA in English Language Teaching and then began working at Limerick School Project.  Over the course of 11 years working in the school, Matt took on roles as support teacher, SNA, class teacher, dance teacher and principal.  During those years, he completed a PhD in Education and Applied Linguistics at University of Limerick.  He has published in academic journals and lectured at conferences and teacher training colleges on the topics of multilingualism, intercultural education and continuing professional development for teachers.  Matt became the principal of Knocknacarra Educate Together NS, a developing school in Galway City, in 2014.