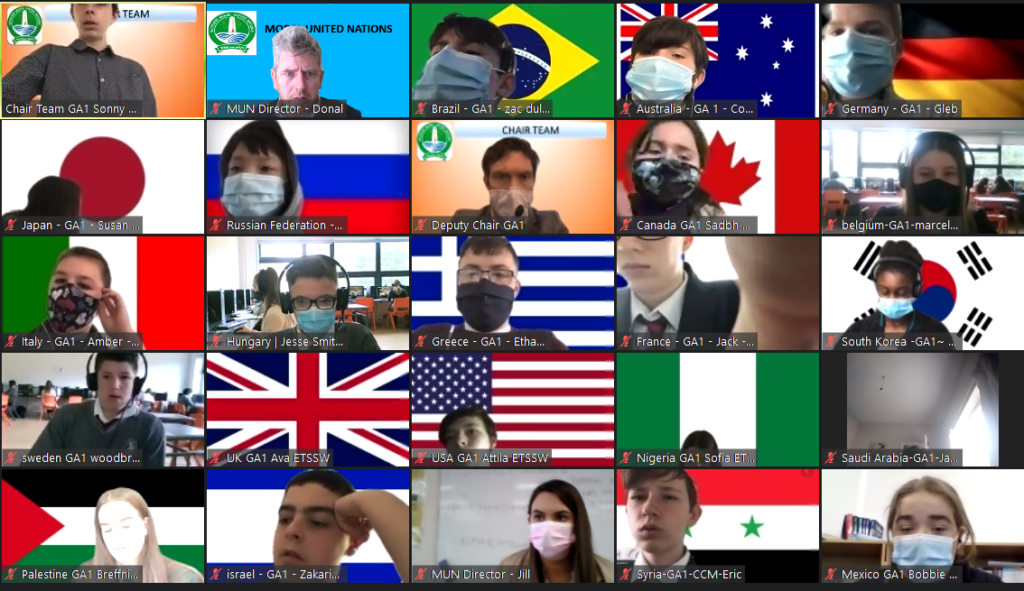 Colm Kehoe, school principal
Model United Nations conferences usually take place in conference venues with students representing different countries, a press team hungry for news, student leaders chairing committee groups and administration staff bringing everything together. It is a huge opportunity for students to develop their knowledge on international relations and bring a lot of the subjects they study in school to life.
They use the formal language of international diplomacy and learn about the complexities of reaching agreement on the international stage. When a resolution is finally passed, it has gone through an arduous process of being approved for discussion, passing through a committee debate and succeeding in a General Assembly debate.
So how does all of this work in an online context? Not without a challenge.
With the theme of 'Building a Better World', it was sort of like a grand experiment with seven schools – Belmayne ETSS, Coláiste Chill Mhantáin, Drogheda ETSS, Galway ETSS, Sandford Park School, Stepaside ETSS and Woodbrook College – joining Wicklow ETSS in this project. With more than a hundred students involved, three committees were set up and students were assigned to thirty-two countries.
Each committee had two issues for discussion on their agenda and had to prepare for those from the their allotted country's perspective. During two training days prior to the event, delegates prepared position papers on the issues and developed resolutions to be discussed on the day. Student leaders learned to chair meetings and the press team worked under pressure to publish a newsletter.
Emer Nowlan, Educate Together's CEO, and Simon Harris, Minister for Further and Higher Education Simon Harris spoke at the opening ceremony. The chair team of Sonny Anderson, Hannah O'Callaghan, Ava Warrington, Lenna Smith, Michael Puig Lynch, Eve Stokes and Deirdre Toth led the debates superbly, reminding delegates of the protocols, ensuring that everyone got the opportunity to speak and dealing with points of order and information along the way.
Delegates from all countries engaged in comprehensive debates. Resolutions were challenged with requests for amendments and amendments to amendments, as the process unfolded. The press team got their first scoop of the day when they invited Minister Harris for an interview after his opening ceremony speech.
Student-led and active learning were at the heart of the day and the chair team had the difficult task of choosing the most impressive delegates: Adetola Akinboyne and Niamh O'Hart from Drogheda ETSS representing South Korea and Daniel O'Brien from Belmayne ETSS representing the Russian Federation.
The declamation contest after lunch was a great addition to the day. This challenge involved experimenting with the border between public speaking and drama – using dramatic techniques while avoiding theatrics. There were eight superb finalists with Emma Folen winning out with her absolutely brilliant version of a speech from the film 'Network'.
Wicklow ETSS is now looking at becoming involved in online conferences in first and second year and holding a live event for TY and fifth year students. Participating in online events can be a super learning experience and means that schools can now connect to international conferences without the costs of travel.
Well done to all the students in all eight schools for preparing so well for their roles. They provided a great example of what can be achieved by working together and deserve special recognition for accomplishing an impressive technical achievement in connecting schools all over Ireland.