Educate Together runs EPV-approved online courses for primary teachers every summer. This course looks at the practical applications of Ethical Education in the classroom, with specific reference to Educate Together's Learn Together curriculum.
Educate Together offers these courses as many teachers in our schools have had little or no exposure to the Learn Together Ethical Education curriculum in their denominationally-run Colleges of Education. There are, however, approximately 90 hours of teaching time set aside in the school year for curriculum work related to school ethos.
These courses aim to challenge and stimulate debate as well offer practical advice and resources. Discussions and contributions on forums can drift into philosophical and political areas as well as dealing with classroom-based experience and queries.
The courses will be of particular interest to those not just interested in teaching Ethical Education but who are also interested in teaching the ethical aspects of Social Environmental and Scientific Education (SESE) Social, Personal and Health Education (SPHE) and Intercultural Education.
In recent years, some Boards of Management have supported teachers who have chosen Educate Together summer courses.
Keep a look out for the next issue of the Education & Support Newsletter where we will be promoting our next online courses. For any further information or queries, contact summercourses@educatetogether.ie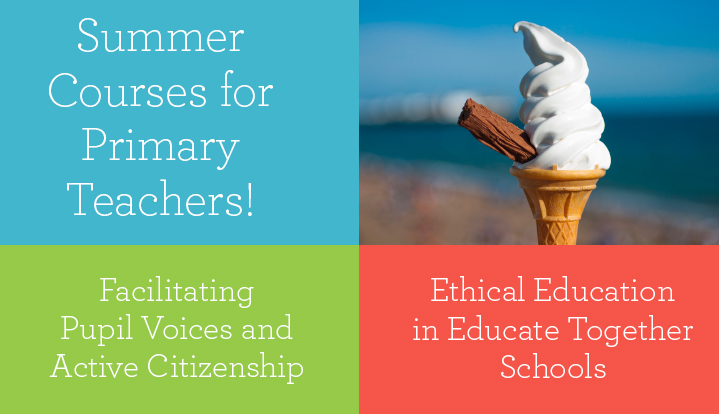 "The course provided me with a clear and focussed outline of each of the strands of the curriculum while also offering a platform on which to discuss, reflect and debate some of the complex issues addressed throughout. I feel the course helped to equip me with a grounding in the Learn Together programme that proved invaluable during my first year teaching in an Educate together school!" 
Shane, a previous participant