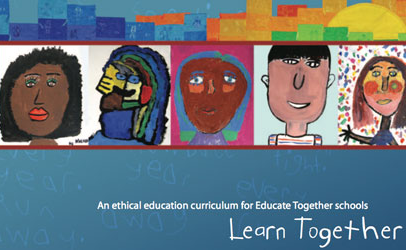 Educate Together welcomes this week's publication of the consultation paper for the development of the proposed Education about Religion and Beliefs and Ethics (ERBE) curriculum by the National Council for Curriculum and Assessment (NCCA) and its commitment to ensuring that the teaching of ERBE will be "objective, critical and pluralist" in accordance with the Toledo Principles1.
In response, Educate Together is happy to offer the NCCA a licence to use Educate Together's Learn Together ethical education curriculum to assist it in this important work.
Utilising this ground-breaking curriculum, which has been recognised internationally as an example of best practice in inter-cultural education, would represent a considerable cost saving in developing and rolling out the ERBE to all schoolchildren in Ireland.
Since the 1970s, Educate Together schools have been at the forefront in developing ethical education which encompasses education about religious beliefs and ethics. The Learn Together curriculum covers the full primary age range from junior infants through to sixth class. It focuses on the ethical, moral and social development of children in equality-based schools. Formally codified and published in 2004, it is now delivered as the 'patron's two and half hours per week' in the national network of Educate Together schools. The Learn Together curriculum has been recognised by the European Union Agency for Fundamental Rights as an example of best practice in intercultural education. (EMCU Annual Report 2005).
In the context of an education system which continues to disregard the rights of many parents to have their children educated in a school which supports their beliefs and worldviews, it is imperative that State, Church and other patron bodies work together to resolve the many injustices faced by a growing number of children of the Republic.
1 The Toledo Guiding Principles were published in 2007 in order to contribute to an improved understanding of the world's increasing religious diversity and the growing presence of religion in the public sphere.