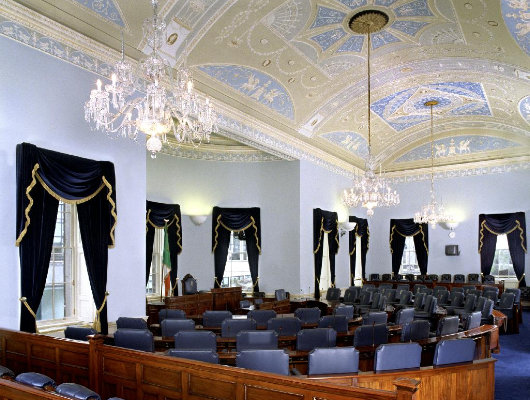 On the invitation of the Children's Rights Alliance, Educate Together CEO Paul Rowe today addressed the Seanad Public Consultations Committee at its public hearing on the UN International Covenant on Civil and Political Rights (ICCPR).
Mr. Rowe advised on ICCPR recommendations that Ireland increase the availability of schools operating along the same guarantees of equality as are embodied in the Educate Together school model.
At present there are large areas of the country where parents have no alternative but send their children to denominational schools against their conscience and lawful preference. There are no multi-denominational schools at all in Counties Leitrim, Roscommon, Longford, Cavan, Monaghan or Tipperary. In his presentation, Mr. Rowe pointed to recent research that documents the negative effects this imbalance in school provision can have, for example, on children from minority faith backgrounds.
Mr. Rowe told the Seanad committee: 'It is fundamental to our world that children do not choose their parents or their family background. It is therefore impermissible that they should be discriminated against on this ground in State-funded education. This is particularly important to a modern democracy that has recently passed a referendum on children's rights and has as one of its founding concepts that of "cherishing the children of the nation equally."'
Mr Rowe praised the recent announcement of the first four areas where schools are to be established as a result of the school patronage divestment process, but pointed out that progress on divestments in general has been extremely slow to date.
Mr. Rowe stressed the need for strong political leadership on the divestment process, in order to support parents, church leaders, the Department of Education and Skills and schools to make lasting change happen in communities across the country. He further requested that the Senators press the government to establish a realistic funding framework to advance the divestment process nationwide.
Mr. Rowe concluded his remarks in the Seanad chamber by saying: 'We are asking the Senators to press the government to fulfil the recommendations of the ICCPR. There is an opportunity to make real progress now in the context of the current divestment process. On behalf of families across the country, we ask you to show leadership and to lend your support to this process.'