Summer Courses 2018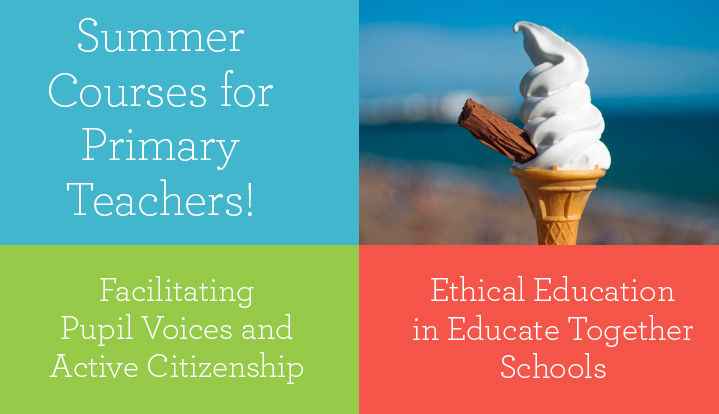 Educate Together is delighted to be running two online, EPV-approved summer courses this year. Each course is priced at €99. Contact 01 4292500 or summercourses@educatetogether.ie for further information. 
Facilitating Pupil Voices and Active Citizenship *NEW 
This course addresses a topical and exciting area in primary education. Pupils aren't 'citizens-in-waiting'. They are citizens right now with perspectives and opinions about the world around them. This course looks at strategies to affirm pupil voices and encourage engagement with issues of particular concern. It aims to nurture a validation of pupil identities whilst also encouraging a sense of empowerment and social responsibility. 
Facilitating Pupil Voices and Active Citizenship will run from the following dates:
July 16th - August 10th. Register here  
Ethical Education in Educate Together Schools 
This course looks at the origins of the Educate Together movement and the development of the Learn Together Ethical Education curriculum. It examines the four strands of this curriculum: Moral and Spiritual Development; Equality and Justice; Belief Systems and Ethics and the Environment. 
In doing so, the course provides a wealth of ideas and resources for the classroom. Evaluated by the DES it was found to be 'interesting' and 'informative' and participants were provided with 'abundant examples of how The Learn Together Curriculum could link and integrate with the teaching of literacy, numeracy and other curricular areas.'
Our most popular course to date, it's suitable for teachers interested in moving into the Educate Together sector or teachers within the sector wishing to attain a broad overview of the curriculum.
Ethical Education in Educate Together Schools will run in two iterations: