Trina Golden, Ennis ETNS
For most schools, teachers, pupils and parents, these school closures have been a whirlwind of digital learning. From Seesaw to Google Classroom, from Zoom meetings to virtual sports days, schools and teachers have upskilled and adapted to provide rich learning experiences for their pupils. Parents and children also have upskilled, engaged and made the most of a very challenging situation. It has been a wonder to behold, and a credit to everyone involved. 
All media around the closures and education has focused almost exclusively on this digital learning revolution, as have Department Guidelines, but what has remote learning looked like for those still living in an analogue world? 
Ennis Educate Together is a DEIS school. More than 70% of pupils would not have access to an appropriate device and internet access for digital learning. We have a high number of pupils with additional educational needs who need support to achieve their potential. As a staff, we identified very quickly that online learning was not an option for us as a school. While it is inevitable that during this lockdown the disadvantage gap will grow, as an equality-based school we were adamant that our approach and our decisions in this time would not be the cause of that gap. We were not willing to leave the 70% behind, and only teach those who could afford digital access. We put our heads together, came up with a plan, and here's what it looked like: 
Priority 1: School Meals
Our immediate priority was to continue food provision. The government quickly announced that school meals funding would continue, but the practicalities were left to schools. Fortnightly non-perishable food packs were agreed with our provider but the immediate concern was delivery. The government then announced a welcome link up with An Post DSUs to facilitate this process. Unfortunately the announcement seemed to come before the logistics were thrashed out and the DSUs were not in a position to follow through. In the end, our school meals provider made the decision to subsume the cost to have the food delivered by courier to each family every fortnight. It took 3 weeks from lockdown to the first food delivery but it has worked well ever since. We are very grateful to Fresh Today, for stepping in to ensure it was possible, and the food has been warmly welcomed by families. 
Priority 2 : Communication
Our priority as a staff was the wellbeing of our pupils and families. How to support this, engage with pupils and communicate with parents to support their needs dominated our discussions. 
Unfortunately the Department of Education's initial guidelines for continuity of learning, released the evening of the Easter Holidays, offered little support or suggestions for non-digital options. It felt once again that our pupils were being ignored, minority and disadvantaged voices being swept under the carpet. After all, who would complain? Who would listen? Token mentions of supporting those at risk of disadvantage, and of phone calls. Nothing concrete, nothing to guide us in the right direction in unprecedented times. They did later follow up with guidance for pupils at risk of educational disadvantage. At that point schools had been closed for 5 weeks and it was a case of too little, too late.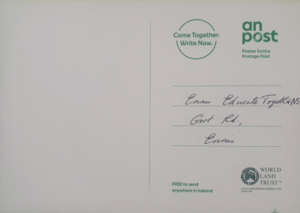 We put our heads together as a staff, with multiple Zoom calls, discussions and debates and agreed on a strategy. Every family would be contacted at least twice a week, one would be a phone call from a key adult for one of the children in the family, generally a class teacher, a support teacher or our Home School Liaison. The second would be another form of contact, sometimes another phone call, sometimes a postcard or a letter and for some families an email. The phone calls consisted of a chat with parents, checking in, asking how they were managing, how we could help. 
It wasn't all positive, some pupils were really struggling. We listened, we tried to give advice, we made plans for more frequent contact, and plans to send things home to them. We tried to give some ideas for structure for those who needed it, and relieve the pressure for those who needed that. This period, for many, has been the most challenging period of their lives, as they watch their children struggle, as they try to support them as best they can while sometimes struggling themselves, with none of the usual support from schools, services, CAMHS, NEPS, HSE. Staff wellbeing takes a significant hit too, as they try to juggle their responsibilities at home, their own worry, and the worry about our pupils. 
Then we chatted to the kids, the real highlight of the calls. The responses were overwhelmingly positive, the chance to chat and tell us their news and hear how proud we were of them. Reminding us why we do what we do. 
Priority 3 : Continuity of Learning 
After food and wellbeing, the next priority was the learning. How we could engage pupils, provide opportunities for learning which don't require devices, or significant resources and which can primarily be completed independently. Many parents were not in a position to support their children's learning in a hands-on way, for a wide variety of reasons including literacy, language barriers and time constraints of working themselves or managing multiple children at home. With all of these considerations in mind, as a staff we agreed to learning packs. Printed materials and reading books delivered to families every three weeks with a suggested timetable. The first pack included a stationery pack to ensure every family had everything they'd need to complete any work in the pack. They included scrapbooks, copybooks, pencils, rules, glue, scissors, counters etc.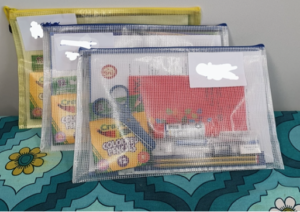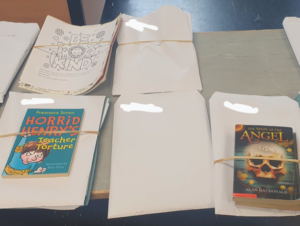 It was made very clear that all work included was an optional menu to support parents and families. All work packs included curricular work as well as work that focused on wellbeing, letters from teachers, reading books. Some included postcards for pupils to write to us, some included seeds for pupils to try to grow sunflowers. All packs were individualised to support pupil's learning needs, by the team of class teacher, Special Education Teacher and SNA. Some packs included sensory materials that pupils might need to help them self regulate at home, sometimes some lego or a game was sent or visual timetable options. After each pack was sent communication focused on what worked from them for parents. Staff worked incredibly hard to make sure each pack was accessible and appropriate and as a leader I am incredibly thankful and proud of their efforts. The parents and pupil response to the packs was overwhelmingly positive and grateful.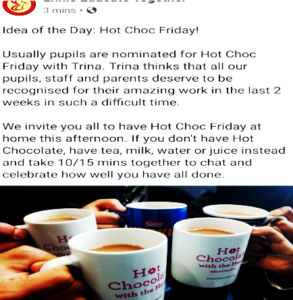 In addition, we posted additional suggestions on our social media pages with an 'Idea of the Day' for interesting online options for those who did have access to digital devices. We encouraged parents and pupils to send us photos or samples of work if they would and gave feedback where possible. 
Where to next?
As we await the guidelines for September, the focus turns to then. Discussions and staff questions around what September might look like. We look to plan for what we can do to support those who may have suffered trauma in this time, to support those who will be set back significantly by the lack of structure and routine, to once again start to try to lessen the disadvantage gap, the widening of which is now being acknowledge as a major consequence of the shut down. We wait to see what support will be offered, in terms of funding, increased NEPs support, staffing support, with a niggling suspicion that it will be minimal if any and will fall to the school to figure it out. We discuss a major focus on our Nurture Room and a first term of Special Education Teaching focusing solely on Social, Emotional and Behavioural supports. We will continue to work to ensure every child in our care gets the best we can give them.
The Bigger Picture
As I reflect on what we've done during this time as a school and staff, I am very proud of everyone involved. Our school staff, our school community, our parents and pupils. Our support services such as the School Completion Project, Clarecare and the Clare Children and Young Person's Services Committee (CYPSC) who all contributed in some way. Yet, there's always the wonder, the question. Are we doing enough? Is there more we could be doing? What long term impact will this have?
I hope that the summer offers time for those in the Department of Education, the Government and positions of influence to start to think about the long term impacts particularly on the disadvantaged and the necessity for them to address and support it in a concerted and funded way, particularly if some aspects of remote learning are to continue. The €600 additional ICT grant to fund devices and internet would be laughable if you could bring yourself to laugh at it. If this is to be something more long term, the gap must be addressed. We must not condemn a generation of less privileged children because their voices are quieter and harder to hear. We must stop, we must listen, we must ensure we raise up and amplify those voices. That will be our legacy when we reflect on our response to this extraordinary situation. How we treated those most in need, how we advocated for those who were not being heard, and how we responded to the damage caused to them.
Schools will be one part of this, one place where some healing, support and return to normality can start, but schools can't do it alone. We need everyone, regardless of circumstances, to now advocate for the children at risk of disadvantage, for the minorities and for the ignored. Use your voice to make their voices heard. Let that be our legacy. 
Real stories from the Educate Together community
Educate Together's schools mean so much to the lives of the children and young people who attend them, and to the communities that they are a part of. You can read, watch and listen to real stories from the students, staff and families involved in the Educate Together school movement on this page and at the links above. Do you have an experience from an Educate Together school which you would like to share? Share your story: info@educatetogether.ie