News
One Day Together 2017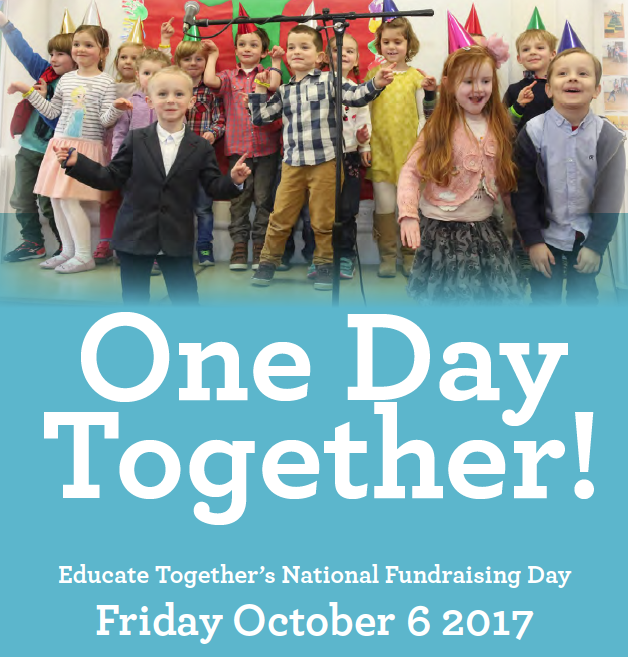 Thanks to everyone who supported One Day Together last year! As you all know, Educate Together is a registered charity, and competition for funds across the charity sector is fierce. Consequently, One Day Together is a vital stream of income for the network. Last year, you raised almost €10,000, an incredible achievement for which I am deeply grateful to you all.
 
Responsible citizenship is a core theme in ethical education. Supporting communities and contributing to charity through volunteerism is an important aspect of citizenship. We want to ensures that people in our schools feel part of a national movement of Educate Together schools. One Day Together 2017 represents an opportunity to awaken pupils' sense of citizenship by knowing that they are part of a community, celebrating that community and, through fundraising, contributing to the future well-being of their communities!
 
I'm sure you know that opening a new Educate Together primary school costs us almost €50,000 on top of the funds provided by the state. While it is undoubtedly a challenge to raise this money, it is a relatively small amount given that it will establish a school that will serve its community for generations to come.
 
This year our goal is for the current generation of Educate Together pupils to pass on the gift of a new Educate Together school to the next generation. One Day Together 2017 aims to raise enough money to open a new school! To achieve this, we need as many schools as possible to participate!
 
One Day Together 2017 will be held on Friday, 6 October 2017. It's a little earlier than last year, but after feedback from principals and schools we have decided to move the day forward to free up time for other activities around Halloween/Samhain.
 
The most important thing about One Day Together is that it is fun-raising as well as fund-raising, so we will be in touch with schools over the coming months with lots of fun ideas that could suit you. 
One Day Together 2017 Fundraising Pack
Educate Together's Fundraising Pack full of great ideas and advice for this year's One Day Together!
PDF File