News
Newtownmountkennedy Kilcoole Educate Together Campaign 2019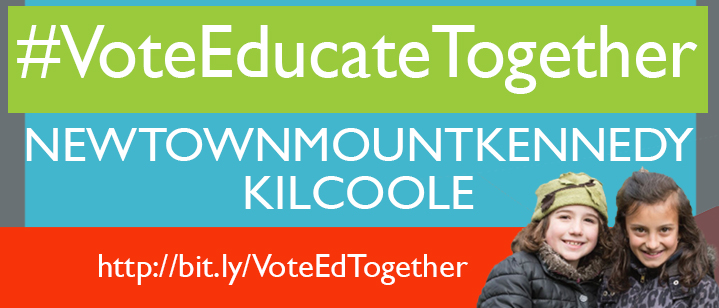 UPDATE: VOTE EDUCATE TOGETHER FOR NEWTOWNMOUNTKENNEDY
AND KILCOOLE HERE
The Department of Education and Skills (DES) has announced that a new eight-classroom primary school will open in September 2019 to serve the Kilcoole and Newtownmountkennedy areas. On November 8th the DES invited Educate Together to apply as patron and published a catchment area map of the proposed school area available here. We expect the DES to allow parents in this area choose the patron of the new school in an online process from mid November 2018 onwards.
Educate Together will apply for patronage of this school!
If you would like to keep updates on this school or help our campaign, please just fill out the form below and we will be in touch. You will also like & share us on Facebook here or contact us at newschools@educatetogether.ie. 
What is an Educate Together National School?
Educate Together schools are equality-based, co-educational, child centred, and democratically run. Educate Together schools are open to every child. Hit the Download button to learn more! 
PDF File