News
Dublin North East Educate Together Secondary School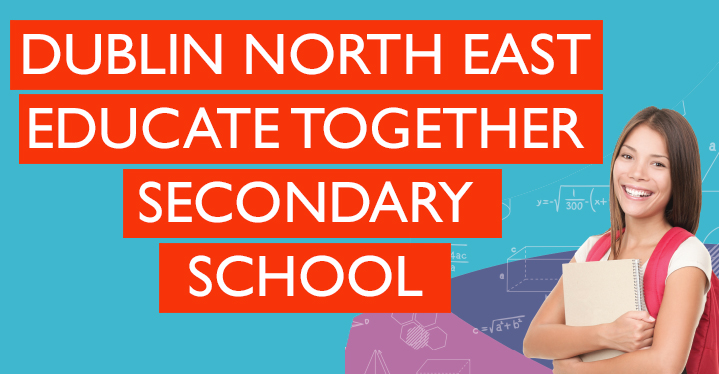 Educate Together is delighted to announce that it has been awarded patronage of a new secondary school to serve Donaghmede, Howth and Belmayne to open in 2019. 
Educate Together provides a new type of second-level school, one that places the student at its centre. Its aims to create a vibrant, welcoming school community to which every student feels a real sense of belonging. Using student-centred teaching and learning methods, Educate Together second-level schools support students' social, emotional and academic development and wellbeing.
ENROLMENT OPEN FOR FIRST YEARS STARTING SCHOOL IN 2019 ONLY
ENROL HERE
Procedure for Student Entry September 2019
The process of admission to Dublin North East ETSS will include a number of stages:
Note: Dublin North East ETSS reserves the right to change any of the dates and procedures outlined below in accordance with changing circumstances.
Enrolment forms will be made available from Monday 3rd December 2018.

All aspects of the enrolment form must be completed fully by the parents/guardians of the student being enrolled. (The information sought therein complies with the regulations of the various Data Protection Acts and will be managed in accordance with these acts.)

Forms can be completed electronically at the Educate Together website from Monday 3rd December 2018.

Enrolment forms will only be accepted in respect of first year entrants, i.e. students starting second-level in September 2019. For Transfers please see the schools Transfer Policy.

The closing date for completed application forms will be Thursday 31st January at 5pm.

Offers of places will be made by post from Monday 11th February 2019.

A Getting Started Form will be sent with the offer of a place.

Failure to respond to an offer of a place by fully completing the Getting Started form and Place Acceptance form, within 14 days of the offer being made, will result in the place being forfeited.

Places will be offered in order of priority i.e. Priority 1, Priority 2, and Priority 3. Please see Appendix 1 for details of the school defined catchment area.

Anyone applying after Thursday 31st January at 5pm will be placed on a waiting list and offered a place only after the 33 priority categories have been offered places.
Principal recruitment is ongoing. 
To get updates on our new secondary school in Donaghmede/Howth/Belmayne/Dublin 13, sign up here
Check out the school catchment area here.
Read about Educate Together at second-level here. 
Dublin North East ETSS Enrolment Policy 2019
Blueprint for Educate Together Second-level Schools
The details of how our second-level schools will run are outlined in the Blueprint for Educate Together Second-level Schools. This documents in detail how the Educate Together model delivers key life skills as well as academic performance.