Educate Together Blog
Educate Together Blog
World Book Day & International Women's Day 2018
Although originally scheduled to take place on 1st March 2018, due to the snow and subsequent school closures, many of our schools decided to celebrate World Book Day last week instead. This meant that in some cases it coincided with celebrations of another important date in our schools' calendars—International Women's Day.
As books and literature, through the kind of characters they depict and the stories they choose to tell, can play a crucial role in shaping how we see both ourselves and the world around us this proved a very fruitful cross-over; providing students with the opportunity to explore issues of gender inequality, engage with progressive representations of gender and question harmful gender stereotypes, all whilst fostering a love of reading. And, as is the tradition of World Book Day, this all took place in some of the most amazing costumes! You can check them out here (keep an eye out for the fantastic Rosa Park's costume from one of our students in Mullingar ETNS who really captured the spirit of the day!)
Of course, engagement with the causes days like these are centred around isn't supposed to stop once the respective days end; these days are intended to be just a start and the awareness they generate is meant to be built upon.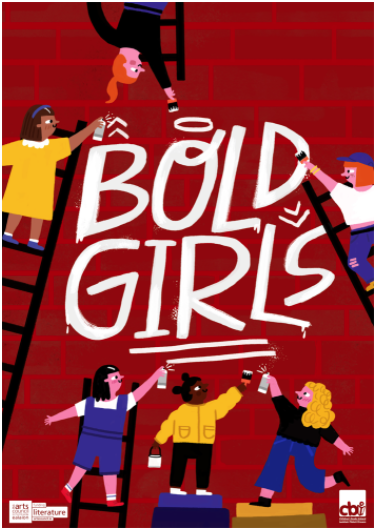 #PushForProgress was the theme for this year's International Women's Day, with the day serving as a strong call to motivate and unite friends, colleagues and whole communities to think, act and be gender inclusive. Again, combining the issue of gender equality with a celebration of literature, Children's Books Ireland has heeded this call and to mark the centenary of women's suffrage in Ireland has launched BOLD GIRLS.
BOLD GIRLS is an initiative which aims to break down societal barriers and to instil confidence in girls and young women by showing them female characters in children's books with agency, power and opinions; addressing at a young age some of the issues that stand in the way of women achieving their ambitions, whether that be in leadership, in government, in the arts. BOLD GIRLS highlights and reviews books that feature strong, intelligent, self-possessed female protagonists in children's books, as well as celebrates twenty female Irish authors and illustrators, both emerging and established, who have made an exceptional contribution to the canon of Irish children's literature.
Launched officially on International Women's Day, the BOLD GIRLS Reading Guide (which offers reviews and information on nearly 200 books for readers aged 0–18, all featuring female characters with agency, power and opinions, and include both classics and non-fiction, in both English and the Irish language) and the BOLD GIRLS Schools Resource Pack (which caters for both primary and secondary schools and is based around 20 books from the Reading Guide) are both free and available to download from the Children's Books Ireland website.
BOLD GIRLS events will also take place across the country this spring and summer, and in the Long Room, Old Library, Trinity College Dublin, an exhibition Story Spinners: Irish Women and Children's Books will celebrate the fantastic skill and artistry of Irish women writers and illustrators of children's texts. The exhibition runs from 8th March to May 2018
For more information and announcements about BOLD GIRLS, visit http://childrensbooksireland.ie/