News
News Releases
Educate Together Awarded Patronage of Two Brand New Schools in Dún Laoghaire and Dublin South City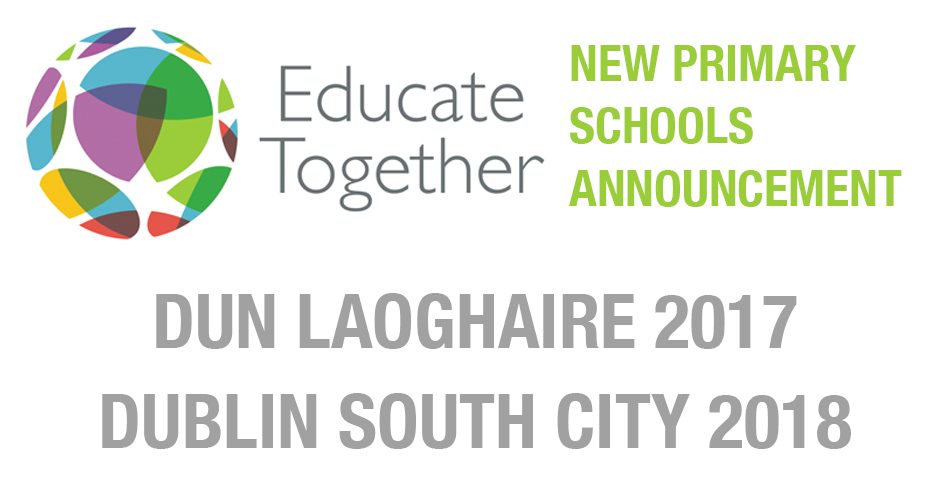 Educate Together Awarded Patronage of Two Brand New Schools in Dún Laoghaire and Dublin South City
Parents are today celebrating as the Department of Education and Skills (DES) has announced Educate Together as patron of a brand new national school to open in 2017 in Dún Laoghaire, Co. Dublin and in 2018 in Dublin South City (general Dublin, Dublin 4, Dublin 6 area). Said Paul Rowe, CEO of Educate Together: 
"Educate Together is delighted to open these new schools in Dún Laoghaire and Dublin South City. We know of the huge demand for Educate Together from the enormous waiting lists in our existing schools in each area. We hope that these schools will go some way to alleviating the pressure on both parents and existing Educate Together schools and extend the provision of equality-based education in Dublin."
The new schools are the result of a six-week process that was run over the Christmas and New Year period during which prospective patrons gathered evidence of parental preference as to what patron would run the new primary school. Scores of parents campaigned hard to ensure that the school would be an Educate Together school and, although the late sanction of the school has caused some concern, supporters are jubilant that their work has paid off.
We await information from the Department of Education and Skills on the location and accommodation of these new schools. You can sign up for each new schools mailing lists here: Dún Laoghaire / Dublin South City 
Said parent and campaigner for Dublin South City ETNS Sonia Morris:
"Im delighted with today's news that the school in Dublin South City will be an Educate Together. This is a really important day for parents and families that want school choice in Dublin. One of the best things about the Educate Together ethos is parental involvement and we can't wait to get stuck into the work of opening a new school and fostering a brand new school community."
Says Dún Laoghaire parent and campaigner Katie O'Brien:
'"any parents will now breathe a sigh of relief to hear that there will finally be an Educate Together primary school in Dún Laoghaire and that our campaigning has paid off. We're now looking forward to working with Educate Together to establish a brand new school community and make Dún Laoghaire Educate Together national school a great success."
Accommodation for the schools has not yet been announced by the Department of Education and Skills. Parents who signed an Expression of Interest form during the process will receive enrolment information in the coming week. More information at www.educatetogether.ie
Ballincollig and Pelletstown
Educate Together notes that patronage of the new school in Ballincollig, Cork has been awarded to An Foras Pátrúnachta and that Scoil Sinead has been awarded patronage of the new school in Pelletstown in Dublin. Educate Together is disappointed on behalf of the many parents in Ballincolligand Pelletstown that showed their support for Educate Together schools by completing Expression of Interest forms and helping with the campaign and would like to acknowledge their hard work and advocacy.
Progress for Educate Together under 'Reconfiguration'
Educate Together is also delighted to announce that the DES has recently confirmed Educate Together as the chosen school patron in 16 areas identified under the current 'reconfiguration' school transfer process. The DES has labelled these 16 areas as "early movers" under its recently published Department's Action Plan for Education 2017, in which the Minister committed to: 
"commence discussions with existing and prospective patrons on potential "early movers" – schools in respect of which a desire for patronage reassignment has already been expressed."
The areas in question are: Fermoy, Westport, Ballina, Killarney, Clonmel, Nenagh, Passage West, Whitehall, Kells, Cobh, Arklow, Dungarvan, Palmerstown/Ballyfermot, Leixlip, Loughrea and Shannon. Educate Together is re-engaging with local start-up groups in each of these 16 areas. Information on these campaigns is available at: www.educatetogether.ie/reconfigure-now-2017